McCain Supports Gay Marriage on MySpace
Oh -- this is great.
John McCain's MySpace page uses a well-known template that was developed by Newsvine Founder and CEO Mike Davidson (see his original
HERE
) -- then McCain's site
HERE
). Davidson has said that people can re-use the template, if they give him credit for it on their site.
McCain used it, didn't give credit. Also, instead of putting the images it uses on his own site, he linked to the ones at Davidson's MySpace. That means that every time you look at John McCain's MySpace, you're using up bandwidth on Davidson's server. This is considered Not Cool on the Internet, hot-linking to somebody else's images.
But Davidson had the perfect solution. Since he had control, basically, over stuff that appears on McCain's web site ... he changed it.
As
TechCrunch
explains:
Davidson decided to play a small prank on the campaign this morning as retribution. Since he's in control of some of the images on the site, he replaced one that shows contact information with a statement:


Today I announce that I have reversed my position and come out in full support of gay marriage ... particularly marriage between two passionate females.
Here are the before and afters: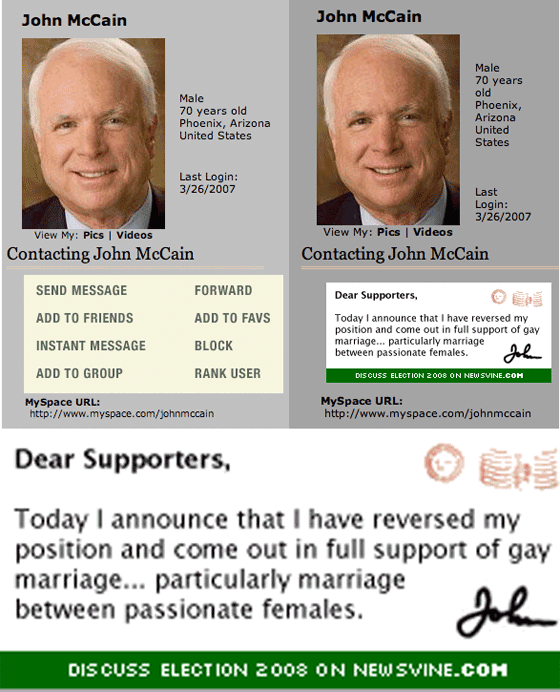 I think that's fair enough, don't you?
[Thanks to Crooks and Liars for pointing this one out.]