Bush Apologizes
Well, there isn't enough time in the world for him to give all the apologies he owes, but he may have gotten backed into a corner on this one.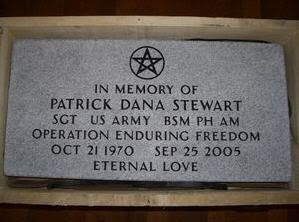 Sgt. Patrick D. Stewart of Fernley, Nevada, was killed in action in Afghanistan in 2005 when his helicopter was shot down, and was buried in Northern Nevada Veterans Memorial Cemetery. Sgt. Stewart was a Wiccan, and it was his wish to have a pentacle (improperly called, more accurately a pentagram) engraved on his tombstone. He was surrounded by Christians, Jews, Muslims, and other Americans whose religious symbols were displayed, yet the Department of Veterans Affairs and its National Cemetery Administration argued that Wicca was not really a relgion, and would not allow the symbol.
You probably weren't following this story: I was. It was just one little battle in the struggle against Christian theocracy, but an important one. I won't go into it, you can Google the guy's name, but in the end, his wife won after a tough fight, and there is today a five-pointed star on his tombstone.
Last week, President Bush met with Nevada families of soldiers killed in combat, and, oddly, Mrs. Stewart was not invited.
There was some outrage on the Internet, but the story didn't carry much weight in the corporate media -- if only there had been a missing blonde. Still, a lot of people noticed this insult, which seemed to people like me to be unnecessarily petty. I mean, really petty. Let's not forget, this was a man who gave his life serving his country.
The Post
:
President Bush has apologized to the widow of a Wiccan soldier after she was excluded from a Nevada meeting this week that the president held with the families of soldiers killed in combat.

Roberta Stewart, whose husband, Sgt. Patrick Stewart, was killed in Afghanistan in 2005, was left off the invitation list for the private meeting Tuesday even though other members of her husband's family were invited.

When she heard about the exclusion from her mother-in-law, Stewart said, she concluded that it was done because of her public fight to force the federal government to engrave the symbol for the Wiccan faith on her husband's marker on a memorial.

"I was devastated," Stewart said. "I was crying and upset. I couldn't believe that my country would continue this discrimination."

On Thursday, after publicity about the omission, the White House and the military scrambled to put things right. Stewart said she received phone calls from Department of Defense officials, who told her that her name was inadvertently left off a list of guests they forwarded to the White House.

Bush, who had been in Nevada for a speech to the American Legion's national convention, also called Stewart and, in a conversation that she said lasted about five minutes, expressed regret over her exclusion. She said she told the president about the Wiccan faith.

" 'I don't know whether you believe me or not, but I hope you know that this president would not dishonor a soldier,' " she said Bush told her. Bush Apologizes to Wiccan Soldier's Widow for Meeting Slip-Up
The
Washington Post
calls it a "slip-up," right in the headline, which is what I would call a "cover-up" by the media. Nobody in their right mind thinks this was a "slip-up," unless you mean by "slip-up" that he didn't anticipate that anybody would notice. This was the common case of our nation's leader discriminating on the basis of religion. If he had invited this widow to the meeting, there would have been no negative publicity, no newspaper would have said, "President Endorses Witchcraft In Meeting With Families." Instead, he chose -- didn't "slip up,"
chose
-- to make the point that only some of those who sacrifice their lives for their country deserve recognition.
It was a bizarre thing for him to do, and it backfired on him. Can you recall any other time, ever, in his presidency that he has apologized for anything? Anything at all?