CRC Holds Huge Protest
This was the dumbest thing, you just don't know why they do it. The CRC held a protest at the Germantown Indoor Swim Center today.
Here's the deal. The Montgomery County Council is going to vote to add the words "gender identity" to the existing nondiscrimination law.
I don't know why some people feel they are the wrong sex, but they do. There's nothing perverted about it, they can tell you, they just feel their body and their mind are opposites. People who feel that way are a tiny percentage of the population, most people don't understand them, they get hassled a lot. Nobody chooses to feel that way, but some people just do, including some really cool people, and we are lucky to know a few of them.
But the Citizens for a Responsible Curriculum are against it; they believe it is very important to retain the right to discriminate against these people. I don't know what the point is, there's nothing in the Bible about gender identity so they can't claim it's a religious thing. It doesn't hurt anybody, it's nobody's fault, and lots of other places already include it in their nondiscrimination laws.
There would be two reasons someone would oppose a law like this. The first and probably most common thing is ignorance. You think of somebody changing their sex and you think of, you know, David Bowie back in the day, or the Sweet Transvestite from Transsexual, Transylvania, in Rocky Horror, some kind of crazy thing. Because honestly, most people haven't had the chance to meet someone who has actually gone through that. It's more common than you'd think, but not very common. It's something most people don't have to deal with, haven't thought about very much, it just seems weird and I don't blame somebody who has a sort of opinion or attitude based on that. A little education can fix that problem.
The second reason is not so acceptable. The word we use for this is "hate." The CRC doesn't just feel uneasy about somebody like our friend Dana, they actually -- literally -- stood out by the street waving signs and handing out fliers trying to get people to pressure the County Council to make sure it is legal to discriminate against people like her. Why in the world would you want to do that? The people out there were mostly religious people -- how can they reconcile their religious beliefs with this ugliness?
A total of seventeen people showed up to demonstrate, and there were four police cruisers and a police van there. The CRC had their usual yellow signs, "Health Before Politics," "No Unisex Bathrooms," the same ones they've used before. Plus they wrote a few by hand: "Protect Women and Children," "No Legal Indecency," "Fight Indecency Stop 23-07," "Protect our kids from pedophiles" (sounds like somebody showed up at the wrong demonstration), and a couple of other things. Decency must be their new word, as if decency means being able to discriminate against people, as if it means people who live in their own unique personal hell should continue to do so and not violate any nut's expectations. They stopped cars coming out of the swim center and gave people fliers. The thing went on for two hours, as planned.
They'll tell you, they have like four thousand names on their mailing list. They like to make it sound like that means they have four thousand supporters. Which would be close to half of one percent of the people who live in this county, assuming that all of them live here, which they don't (and, judging by the number of people who forward me CRC newsletter items, I'd say a considerable proportion of the list is people from our side who just want to keep an eye on them). And of those four thousand, they got seventeen to show up. Most of them were the same ones, of course, Michelle, Theresa, both Steinas, Ruth.
These are some hardcore bigots, to get up on a Saturday and go out to wave signs supporting discrimination. We got a few pictures, just to let you see what a big scene it was.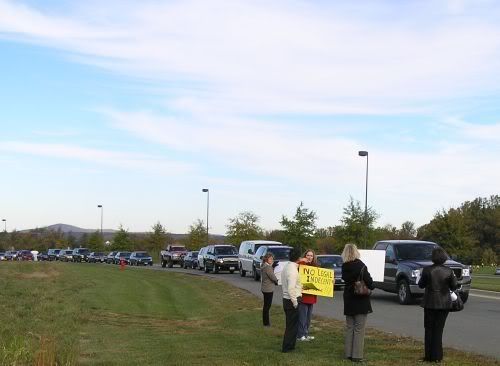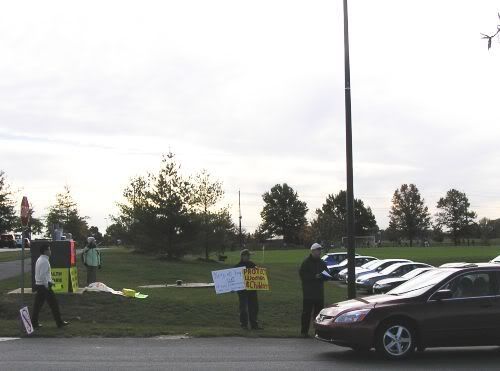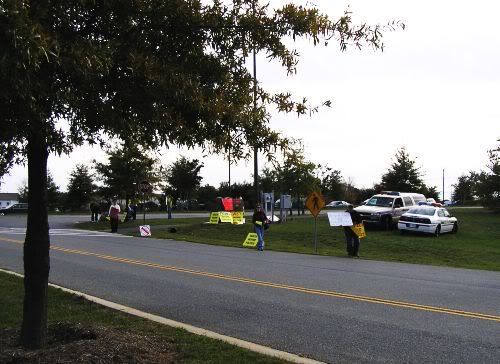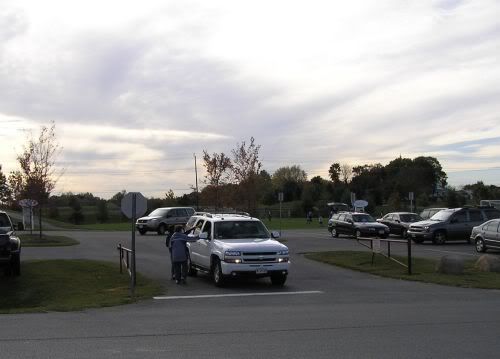 Wow, I'm sorry I missed it.