Hillary and Obama
We're in Iowa during the campaign season, and today we went to see two of the candidates -- I thought maybe you'd be interested to see a couple of pictures I took. It is really interesting to see these people up close. Hillary Clinton talked at the Sioux City Art Center. I wouldn't venture to guess how many people were there, maybe 500, maybe a thousand, they were stacked up on three stories of winding stairways. Her presentation was very professional, warm, she knows her facts and figures and how the process works, and she touched of course on all her policy points through her talk. Not a lot of humor, but lots of confidence and cheerfulness -- her mother and daughter (Chelsea) were there. You had the feeling that she runs an efficient organization, and actually she seemed like a nice lady. I know you're not supposed to think that, but that's the reason you see somebody in person, right? She's not very big, wasn't dressed too fancy or anything, just seemed like a nice, smart lady.
Here are a couple of pictures from that talk.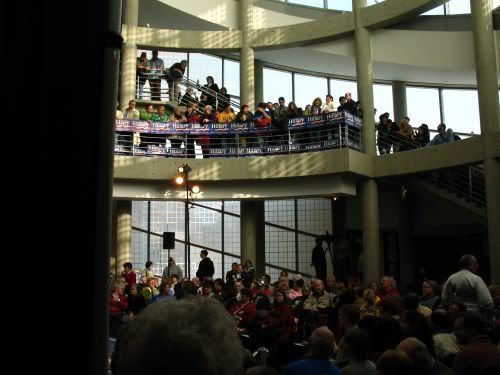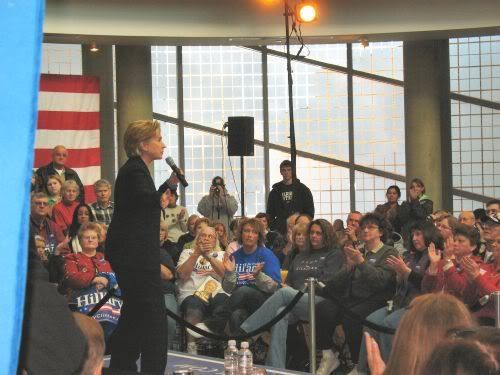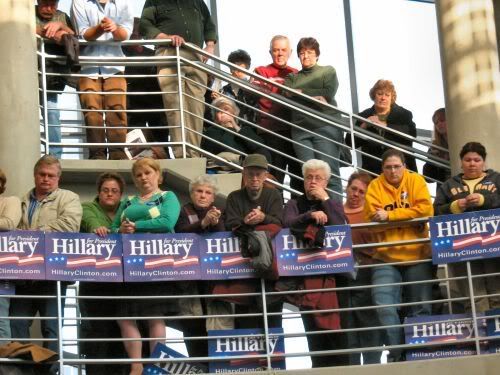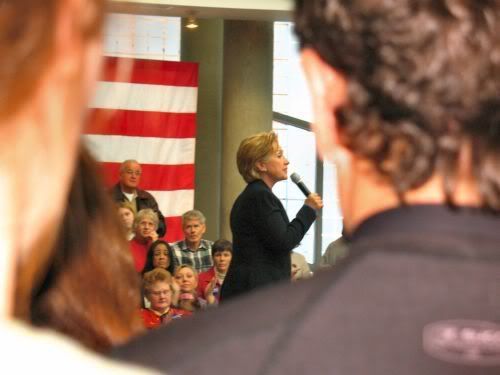 We left while she was talking, to go across town to see Barack Obama. He was talking at an elementary school, in the gym, and it was too full, so we saw most of his talk on a TV screen in the overflow room. Finally enough people had left, and we were able to get into the gym where he was. He was going to go into the overflow room to shake hands, and I think people were maneuvering to get in there for that. His speaking style is very personable, sort of funny, his grammar gets a little twisted sometimes but that's part of his charm, he comes off as a regular guy. Said the president of Iran was "a little nutty." Joked quite a bit about his cousin, Dick Cheney. Talked about what a nice chair he was going to have when he's president.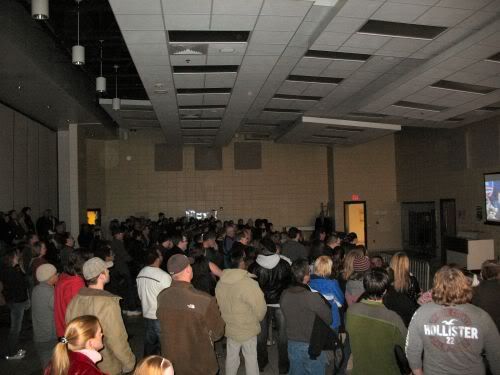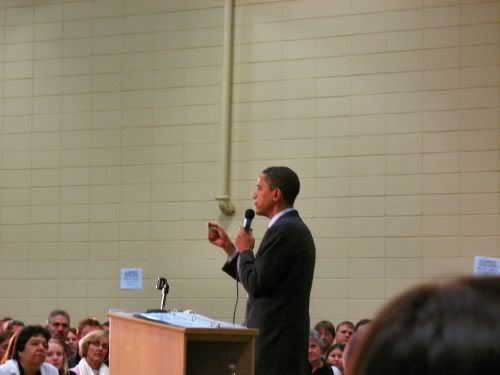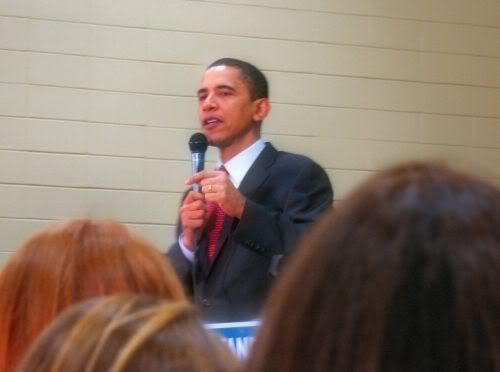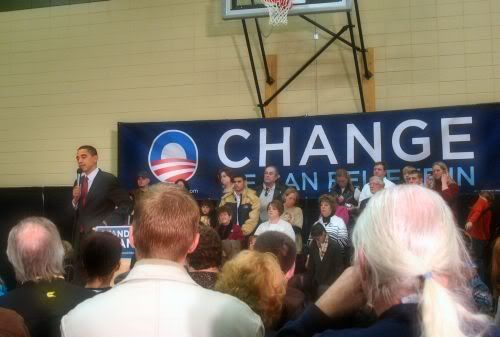 It is fascinating to see these people working a small crowd. I think they were each visiting four cities today. You fly in, ride to the gig, give your speech, shake some hands, and fly out again. They've got to be dead tired, but neither one of them showed it in the least.
Between these two, you can see there is a real choice. There's lots of agreement, of course, we need to turn the country around, they have ideas for health care, immigration, all of that, that aren't entirely different as far as I can tell. But these are two different ways to get things done. Barack is a people-person, a little rough around the edges but he would get the right people talking to each other and, it looks like, he'd keep pushing to get his projects implemented. She, on the other hand, is a professional and a driver who will see that nothing is missed, that the process is rock-solid; she'll know the real risks from the opposition and how to work the system to get things done. Between the two of them I don't have a favorite, you know me, I'm not too political, and anyways there are some other strong contenders in the race. I just think it will be interesting to see how the people choose.