Checking the Petitions
I was sick this weekend. Had a sore throat through the last half of the week, and then Saturday I got hit with laryngitis. That is the weirdest thing. My throat
felt
better, in fact I felt better generally, but when I opened my mouth to talk nothing came out. I was supposed to play some music Sunday but canceled it, since I couldn't sing and didn't feel very good.
I missed Saturday, but Sunday afternoon I went down to help the task force review petitions. You know the Citizens for a Responsible Whatever brought thirty-two-thousand-something petitions to the Board of Elections to force a referendum to re-legalize gender-identity discrimination. You really ought to go to their web site to see their happy pictures: notmyshower.net. They were so proud of themselves, making the world a better place for moral people and all.
I sat with about thirty other people in a sixth-floor office near Thomas Circle, looking at those petitions. They were arranged in stacks along one wall, where the first stack was "Signatures" and other stacks had to do with dates, certification, and other information on the petitions. I was the new guy, I only did signatures. Each petition has up to five signatures on it, the person's name signed and then printed. The signed name has to match the printed name, that's pretty much what the signature check is about. The signature should be legible, if it's not we flag it so somebody can compare the signature to the one in the election board's database. I took a packet of petitions and went through each one, checking each signature. You wouldn't think it was that hard, signing your name and then spelling the same thing.
I'm not going to spill the beans on what has been found. There's a lot more to do, so far the group only has the first thirteen-thousand-something petitions -- I was told the Board of Elections had to swear somebody in to take the originals to Kinkos to make copies, I thought that was interesting. Now the volunteers will go through and record things that look wrong, and then the lawyers will go through and look at those flagged things. Ones they determine to be bad will be reported to the Board of Elections. I don't know how the legal stuff goes, I suppose the other side can appeal, too, or perhaps a settlement can be reached between the two sides. I am really not the expert on legal stuff, don't take my word for it.
I sat at a small table with three other people. It was pleasant, everybody was busy. Sometimes somebody let out a little groan, or a mild "oath," as the writers used to say, when they got through a page and didn't find anything. Or somebody'd say, "Ah, that's two in a row," meaning two pages without errors, but that didn't happen very often.
I didn't talk with the big guys about what the plan is. I expect that at some point the lawyers will want to file something with the Board of Elections, challenging the bad signatures that are found. Nobody knows yet if there will be enough to prevent the referendum or what. There are some other things going on that I did hear about, I'll let you know if any of that comes to be. This is all part of that big process we call "democracy." Yes, you can petition for a referendum, but interested parties have the right to challenge if there are grounds. And they have the right to see if there are grounds.
In other news, I see the CRW is hinting that they are thinking about suing somebody, saying they were harassed while they were gathering signatures. We see
HERE
that they have issued a press release, but I don't see it on their web site.
... They got volunteers thrown off mall property by complaining to mall managers. Twice, police had to be summoned by store managers to stop transgendered gangs from harassing people attempting to sign the petitions.

Citizens for a Responsible Government released a press release today announcing they are considering filing a civil rights lawsuit because of the extent of the harassment. Such tactics "are commonly used by totalitarian governments. There is no place for this in Montgomery County," attorney John Garza said.
I'm thinking they might want to be a little careful about going down that road, especially since we have numerous reports of people being assaulted and verbally abused by their petition-pushers. The smart thing for them would be to try to generate a little sympathetic publicity and then let it drop.
But you gotta give them credit for the idea of "transgendered gangs." I'm sure they got a laugh out of it when they thought of the phrase, but ... no, that's for
The Onion
, not reality. Also, they must know how it looks to claim to have been chased out of Dodge by "transgender gangs." I'm just saying, their redneck buddies might see some humor in it.
It seems to me that "complaining to mall managers" is pretty much a fair thing to do, if it works. I talked to a few store managers, pointed out to them how it made their store look, explained the background of the situation. Most managers decided to throw them out whether we talked to them or not. I had one manager let one person stay, but he came out and turned away back-ups. Another one just told me they had permission, and as far as he was concerned that was that. All in all, it was worth a try.
I imagine that the next thing will be a meeting between the lawyers, and something filed with the elections board. I thought I heard the word "press conference" yesterday, so I imagine there will be an announcement when something happens.
Here are a few pictures from the petition checking.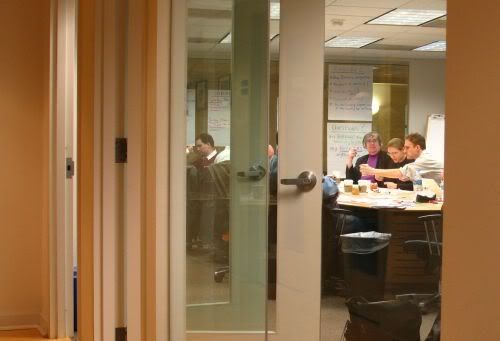 And one to throw fear into the heart of every true shower-nut -- a unisex bathroom! Mwah-ha-ha-hee-hee-hee: