Parents Demonstrate at Einstein
A crowd of about a hundred people, mostly Latino parents, showed support for Albert Einstein High School in Kensington yesterday, supporting the teachers and administration, and making a statement that despite the gun incident that happened there recently Einstein is a good and safe place to send your kids.
My daughter went to Albert Einstein High School. She was in the Visual Arts Center, which is a great magnet program, four years of intensive training in drawing and painting, color theory, composition, and all that. Einstein is also a performance arts magnet, with an advanced theater program. It's a downcounty school and it draws a very diverse student body. It's not a fancy school, listen this is Wheaton, not Potomac, it's working people's kids mainly, and it always seemed to me like a cool place. My daughter was safe there, she had friends of every type, she learned to accept and know all kinds of people, and she got a terrific education.
A month or so ago there was a stupid situation where a kid brought some guns to school and one of them went off in the boy's bathroom. Shot a hole in the wall. Turned out he was going to try to sell some guns to another kid, well, this is stupid stuff. Stories are not clear, maybe there had been a big fight the week before, maybe there was a gang involved, whatever, it was teenage kids being dumb and somebody could've been hurt but no one was.
Well, don't you know the TV news people love this. Some of the kids had Hispanic names, so right away they were talking about MS-13 and evoking the image of Spanish-speaking gangs. And poor Einstein, right in the middle of it, their name getting smeared all over the place, the television-crew trucks' antennas sticking up, up and down the street, news reporters wandering around interviewing people.
One part of the news story was that the school administration might not have handled it well. There
was
a problem, in that the gun went off at about eleven-thirty, and the principal wasn't told until after one o'clock. As I understand it, some people heard the bang, but nobody really knew what had happened. Security guys had to find a custodian to confirm that the hole in the wall hadn't been there earlier in the morning, and the cops didn't declare it a gunshot until the afternoon. Anyway, the principal, Jim Fernandez, immediately issued an order that if this happens again it doesn't matter if he's in a meeting or what, he needs to know.
As soon as the police confirmed it was a gunshot he put the school under lockdown, and pretty quickly they found the kids that were responsible -- the school video cameras had very clear pictures of the guys going into the bathroom. Which is good, because for a while the rumor was that they were going to search every locker and every kid, and that would have kept everybody locked up there late into the night. Besides, I don't think you want to search a whole high school full of kids, you might not like what you found.
The parents at the school were generally happy with the way the school handled the situation. Phone-message updates were sent out during the day, and parents posted news to the Yahoo group, the problem was identified, the bad guys were arrested, order was restored promptly. There was a big meeting, as I understand it several hundred parents came to it, and the atmosphere was positive and supportive. But there was one parent who stood around in the back and made negative comments, and after that a number of reporters went and talked to him, and naturally
that
was what made the news, the "divided community." Gangs, hoodlums, juvenile deliquents at Albert Einstein High School. Dangerous young Hispanic criminals shooting guns. Great. Just what a cool school like Einstein needs.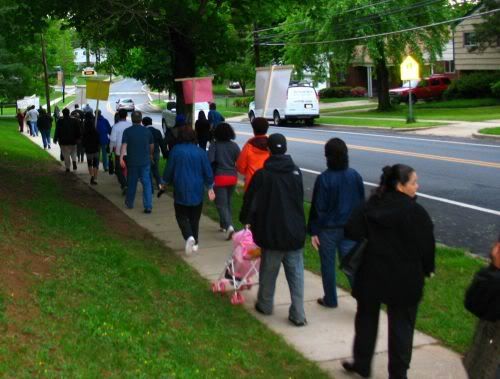 Last night this crowd of parents, in particular Hispanic parents who wanted to show their support for the school and their intention to raise their kids right, carried signs and chanted in Spanish and English as they marched down the street and up to the school. The demonstration started a little before 7:00, and was followed by a meeting conducted in Spanish at the school. Here's the
Gazette
on the day before:
Latino parents are planning to march on Albert Einstein High Friday in support of the school's principal and to demonstrate their resolve to find solutions to the issues of ''gangs, race and academic achievement" at the Kensington school.

Alex Colina of Wheaton, whose son will attend Einstein in the fall, said the event will be the start of a new partnership between parents and the school.

''Parents want to show that they want to work with the school," he said Tuesday. ''We're not asking the school to fix the problems, but help us find ways to deal with...gangs and everything related to that violence, race relations and the academic achievement gap. They want to see what it is that Latino parents can do to address that."

The march will begin around 6:15 p.m. Friday at Newport Mill Middle School, 11311 Newport Mill Road, and head toward the high school at 11135 Newport Mill Road. A community meeting, held in Spanish, will follow at 7 p.m. at Einstein.

The idea for the march and meeting came about after several informal meetings of Latino Einstein parents. Colina said Latino parents have been meeting on Friday evenings since April 9, when students brought guns into school for sale.

Friday's events will come just days before Einstein students Jose Ramos, 16, Geovani Lazabara, 17, and Raul Garcia, 20, are scheduled for hearings next week in Montgomery County District Court on charges stemming from a gun incident at the school on April 9. Police have reported the suspects had some connection to gangs. Latino parents organize march on Einstein
I was a bit worried when I first arrived at the meeting place at 6:15, because there were like five reporters and three people there. You hate it when you hold an event and the press outnumbers the participants, especially when they're taking pictures. But people kept showing up, drifting in from parking places all over the neighborhood, and before you know it there was a really nice crowd.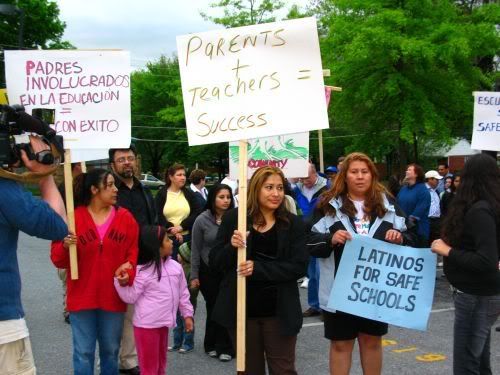 You can tell I am in favor of this thing. Yes, I absolutely am. When this gun went off in the boys' room it stained Einstein High School and it was a stain on the Latino community, because people jumped to stereotypical conclusions. And these people wanted to make the point that they're not like what you see on TV, these are hard-working people with ambitions, who came -- or their parents or grandparents before them came -- to the United States for the opportunities it offers. They don't want to send their kids to a dangerous high school, and the people I talked with were uniform in their belief that Einstein is a safe and good school.
To me, this is what has to happen. Minorities need to organize themselves and take control of situations that affect them. The majority isn't going to give them a hand up, they have to give themselves a boost if they're going to get over the wall. They will have to identify their problems and find positive solutions to them. These Einstein parents see what they have to do, and they're doing it.
A man, I believe he is the same one who made the negative comments at the meeting mentioned above, commented on the Einstein Yahoo group. Speaking of this demonstration, he posted this message:
This meeting will not help at all and is a waste of time!!
So Alex Colina, one of the organizers of the rally and meeting, responded on the same message board. I'll include his entire response, because I think he's making a good point:
Mr Scott,

Time is indeed in short supply, specially amongst most of the Hispanic parents organizing this as many work two or three jobs.

You say this effort will not help us. Perhaps...we are very new to this, we recognize that we should have been at the table long ago, but we are here trying hard now. We could not think of any other place to start to address this issue than to get some basic facts from the administration in the language that 40% of our community (meaning yours and mine) speaks and to initiate some communication amongst parents of all races and cultures to find the solution.

But again, it sounds like you know (perhaps from experience) that this is not the correct approach. I would very much like to speak to you about your thoughts on what the correct approach should be. You mention you are a minority. If you are not Hispanic I am doubly interested in talking to you. Minorities are specially hard hit by the problems of youth violence, teen pregnancy, a growing achievement gap and a long litany of ills and while many agree that we need to work as one, one also has to recognize that we do have different perspectives on these issues.

Diversity is at the center of what makes our community rich and vibrant, and I mean not only diversity of race but of thought.

If you think that through conversation, you and I can help our communities find common ground to address the issues that affect us all please do not hesitate to contact me.

Alex Colina
[phone number deleted]
Einstein Latino Committee