Gigantic Shower-Nut Protest
Equality Maryland held its annual Night Out For Equality at the Bethesda Marriott last night, and Christine from TTF was there with her camera to record the gigantic protest outside. Let me fill in. Equality Maryland is a group that supports gay, lesbian, bisexual, and transgender rights in our state. Though a number of groups and lots of volunteers participated, Equality Maryland is really the group who really mobilized the drive to scrutinize the petition signatures in the recent effort to relegalize discrimination against transgender people in Montgomery County. I'm guessing that's the reason this protest was held outside their gala.
If you haven't been following this, our County Council recently added the term "gender identity" to the existing nondiscrimination law, along with race, religion, sexual orientation, and other things. A small group of people announced that their morals were offended, it was against their religion to be fair to transgender people, and then they started saying that the law would allow ill-intentioned men -- predators, perverts, and pedophiles -- to lurk in ladies' shower-rooms. We noted last week a group in Colorado using exactly this argument to fight gay rights out there. It is very persuasive because nobody wants to have creepy men in the ladies room, and nobody has the time to go look it up.
Here is a picture of one of the protesters last night. If you can't see it, her sign says, "It's Pool Time! But who will you and your children see in the showers?"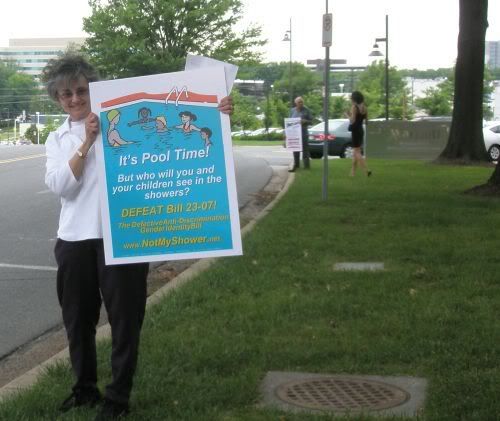 Here's the main part of the protest. Christine says there were as many as seven people there.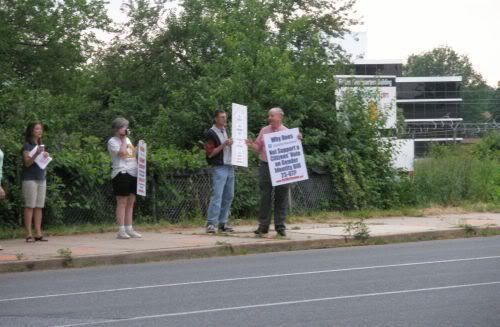 Ah, this would be Cynthia chatting with a protester. Remember when the "transgender gangs" were harassing petition signature collectors? Here's one of the gang members. Notice the tattoos, the bulging muscles, the leather. Cynthia is
very
intimidating.
It's hard to read this guy's sign. I blew up the picture and it seems to say "Liberty Lost" at the top in big letters, actually the whole thing is "Will Montgomery County be the first in Maryland [fingers in the way] all special rights for those with gender identity DISORDER [unclear]." Then underneath it lists things like "Lost privacy in restroom and showers," "lost security for our children from predators," lost ability to choose roommates on basis of [unclear]," lost freedom for small business to decide," "lost religious freedom in hiring teachers and staff," and "lost community standards of decency." Then at the bottom again it says "Stand for liberty."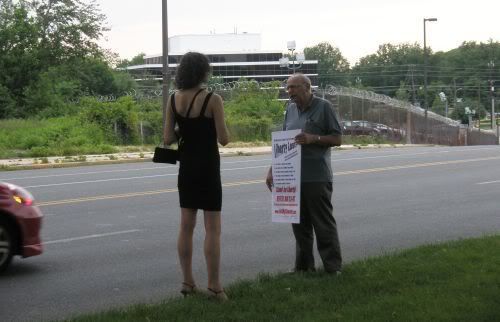 Some of the protesters stood on the other side of the road. Christine wanted to be fair and include the entire mass of people in a photograph. Here they are. I'm not sure what the cops were doing there. The guy in the suit is not a protester, that's somebody attending the gala. You can see there are crowds of demonstrators on both sides of the street.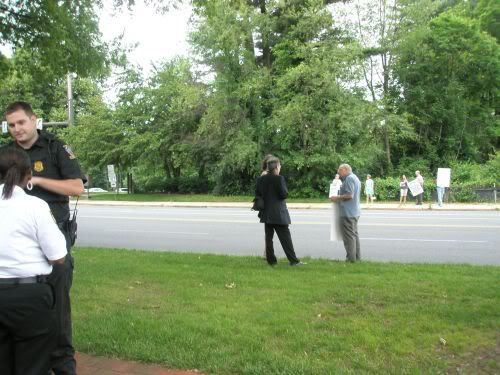 Finally, another shot of the demonstration.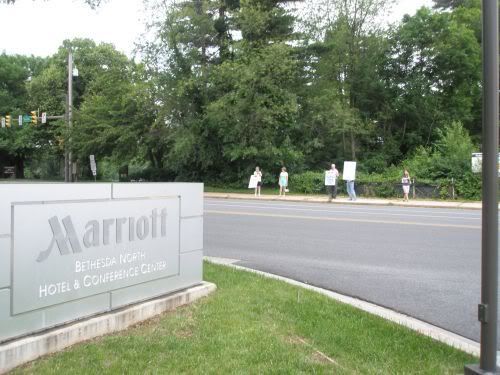 Now and then one of the shower-nuts comments here and says we are exaggerating their concern with the showers. Their web site, by the way, is
notmyshower.net
.
The bill is about gender identity, it protects people who may not meet others' expectations for how you present yourself as a male or female. It has nothing to do with sexual behavior, only with that dimension of self-presentation that defines us socially as male or female. The law says nothing about who can use a restroom or locker-room, but there are laws against exhibitionism, voyeurism, and sexual assault that apply already and will continue to apply. Women can currently use the men's room when the ladies-room line goes down the hall, and they will still be able to. If somebody wants to pass a law against that, they can propose it and lobby for it, but the gender identity nondiscrimination law doesn't say anything about it.
I didn't attend the gala, but understand that a splendid time was had by all. Early word is that the event raised a lot of money for the nondiscrimination campaign. This is an expensive deal, there's work for volunteers but the real work is going to be done by lawyers, and they aren't cheap. There will be a hearing this month in a suit against the MoCo Board of Elections for certifying bad petition signatures; if that succeeds, then good, the bill goes into law. If the judge rules in favor of the Board though, and this goes to election, a very expensive public education campaign will be necessary -- who knows anything about gender identity? If the people are going to vote on it, they will have to be made to understand what the issues are, they'll have to understand something about sex and gender, they will have to understand that it's about discrimination and not about showers.