Crikey, This Springtime Sun is Bright
Wow, I am beat, but this springtime sunshine is just great. Oh, did I mention, I just flew thirty hours, stopping in Los Angeles and Sydney, finally arriving here in Adelaide. Boy, are my arms tired.
Here's a picture of the front of the last plane I flew in. They seem here not to be ashamed of Charles Darwin, they've even got his picture on their money. Lots of churches here in Adelaide, they call it the "City of Churches." The bells keep ringing every quarter hour, all around my hotel, it's a beautiful sound but I'll bet it will take a couple of nights to sleep through it.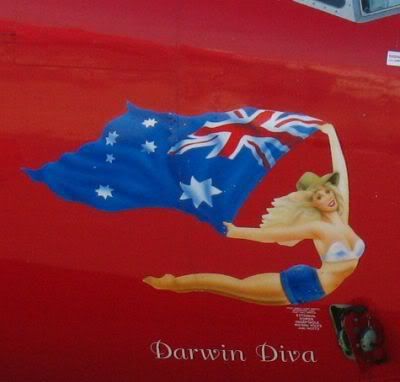 Okay, let me get out and have a look at the city. I haven't checked the news yet, did McCain show up, or did he send Sarah Palin in to duke it out for him?
Funny to be here, I can't even find an American newspaper at the airport. There is some news about the economy, but mainly they're concerned about something they call Aussie "rules" football. Well, I'll find out about that while I'm here, I'm sure. Maybe there are actually rules, and it just doesn't look like it. Like, one rule: jump on the guy with the ball. Another rule: if a bunch of guys are going to jump on you, get rid of the ball any way you can.
I know we have some Aussies who comment on the blog, well hey I'm on your turf now, and loving it so far. This is going to be cool.
[Update: I went for a walk around town (translation: I left the hotel and got lost). The shopping district is not like the US, this is much more like a European city. There is a great variety of little stores, the only big corporate place I saw was Woolworth's. Yes, Woolworth's. These stores have lots of cool clothes, there are junky little beads-n-bangles places, computers and cameras and opals and more cool clothes, lots of people hanging out and socializing, drinking coffee at cafes, playing and laughing.
I had a burrito at some kind of place that had kebab and burritos. I specifically asked the guy not to put humus on my burrito but I think he did anyway. Hard to imagine a burrito without humus, I guess.
There was a TV on without the sound and I watched Australian "rules" football with some guys. Okay, I'm figuring it out -- there are rules. You can't go out of bounds, for one. Another rule, I think, I saw a guy grab another guy by the throat and throw him on the ground when he didn't have the ball or anything, and it appeared the referee called for a penalty kick of some sort. So I think Leaving the Scene and Attempted Homicide When the Victim Does Not Have the Ball might be illegal in this game. And let me tell you, this is a lot better game that American football, in which most of the time nothing happens. American football is nothing but rules. Everybody talks about the rules and then the two teams "line up" like schoolchildren and then when it's allowed they move forward against one another in ways that are allowed by the rules, being careful not to hit somebody from behind or appear to be going out for a pass if you're not "eligible" or to move a muscle before the ref says you're allowed to, or throw the ball laterally or to heaven forbid throw it after you've crossed the line of scrimmage. There is activity until a
schoolteacher
ref blows a whistle and then everybody stops doing everything. As far as I can tell, in Australian football everybody does everything they can all the time. I'll keep you informed as I figure it out.]