Hundreds of Protests Yesterday
Yesterday there were demonstrations all around the country, some of them pretty big, protesting anti-gay laws that were passed in several states in the recent elections, most notably California's Proposition 8, which defined marriage heterosexually.
Box Turtle Bulletin
has summaries from a whole lot of cities, plus pictures that people took.
AmericaBlog
asked their readers to comment on what happened in their cities, there are about 80 comments there so far. Most of the demonstrations were small, a thousand people or fewer, but they happened in every corner of the country, in cities big and small, and even in some foreign countries. The one in Washington DC had somewhere between 500 people (
Washington Times
) and "What looked like tens of thousands" (
Box Turtle
), who gathered at the Capitol reflecting pool and then marched to Lafayette Park, near the White House. (Obvious editorial comment: it was more than 500.)
The DC protest was hit by a heavy rainstorm, and there was a tornado watch at the time. TTF treasurer Christine Grewell was there and got some pictures (I took the liberty to edit some of them a little bit). Check these out: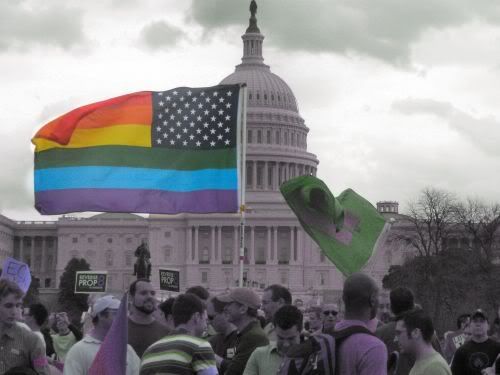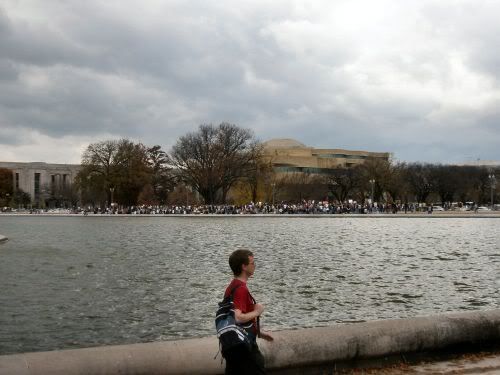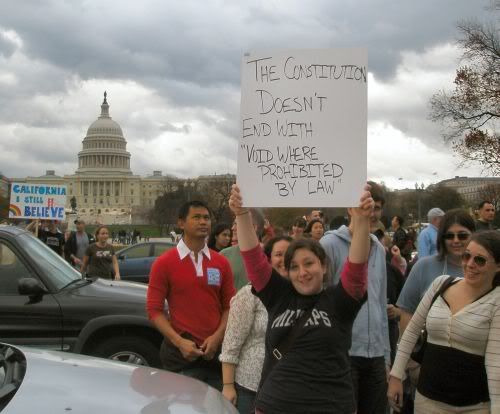 You can see it's not the biggest crowd that ever gathered at the Capitol, but it's a pretty good crowd, especially given that our local activist organizations didn't get involved at all. As far as I can tell, Equality Maryland's web site doesn't even mention the demonstration, for instance.
This protest is not about the big organizations, if I may say so this one is a first example of the next generation of grassroots activism. It appears that there were protests in three hundred cities around the world, all more or less "organized" through social-networking sites and blogs. The whole phenomenon began with a lady in Seattle named Amy Balliett, who got an email from a friend, and set up a web site. Friday, November 7th, the "Join the Impact" web site went up ...
365Gay
has a really thorough post on the subject:
By Monday morning, a plan had emerged: Cities around the country would organize their own efforts to coordinate a synchronized protest for Sat., Nov. 15, 10:30 a.m. PST. The movement became officially global with hits from the UK and France, and by Nov. 11, over one million visitors had come to the site.

Across the country, posts on Craigslist, bulletins on MySpace, and emails on ListServs with titles like "Meet at City Hall next weekend!" and "Upset about Prop 8? Here's what YOU can do about it," began to buzz with notice of the upcoming national protest.
Seems to me two new-ish concepts are relevant here. The first concept is something called the
smart mob
. Because of cell phones -- especially text messaging -- and the Internet it is now possible to spread information from person to person, each one telling a few friends, until a great number of people share the information without any central organizing force. This is a kind of word-of-mouth that does not require physical proximity, information is divorced from the limitations of physical distance, and so you can create huge networks of people distributed over a wide area in a very short time. These demonstrations were organized in this way, with Facebook pages and Craigslist announcements, it was technologically futuristic and everything happened at the grassroots level, "just people" spreading the word to other "just people," without any charismatic figure leading the effort or any money behind it.
But most ideas tossed out onto the Internet do not find instant adoption by thousands of people. This particular issue, the reaction to noxious voting against gay people's rights, succeeded because of the second concept -- it had reached a
tipping point
. There has never been a very strong movement toward marriage equality in this country, even the gay community is divided on the issue, otherwise-progressive politicians wish the whole thing would just go away. But most people in the US now privately accept that gay people are ordinary good citizens, most straight people are fine with it, and most people in the US were more or less horrified to see that these hateful ballot items actually passed. And suddenly an opinion that was held privately by a lot of individuals became a public issue, people were upset and angry and all it took was a little nudge to get crowds to form in the streets of American cities from one coast to the other.
There are legal challenges to these laws, but most importantly the mood of the country has shifted. I just saw where somebody used the word "Talibangelicals." Well, the Talibangelicals worked their way into the White House, they seized control of the national dialogue in a shameful way, and now the people are taking the control back. Americans don't hate gay people, Americans don't want to deprive them of something, take away their rights, most of us just want people to be happy. The religious right has been frighteningly successful in imposing their values on us but their influence is diminishing and this is the last shred of that, they were able to get people to vote for these stupid laws. On every other wedge issue, the religious right -- you can't say the "Christian right" any more, because the Mormons are right there in the middle of it -- has lost ground, people are ready to wake up from the nightmare. Even if most of the protests were small, you have just seen a major change in the way democracy works.