Dana Beyer Files Complaint Against County After Inept "Investigation"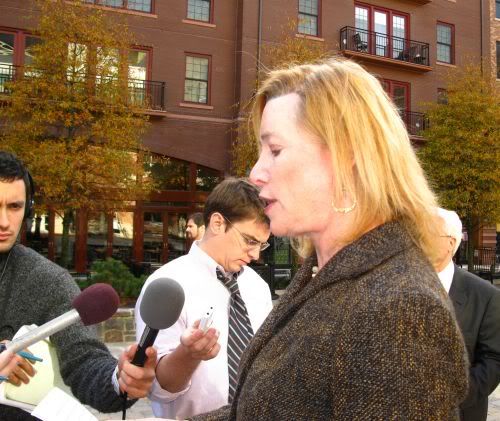 Dana Beyer, Senior Assistant to Montgomery County Councilwoman Duchy Trachtenberg and candidate for Maryland state Delegate, held a press conference today to announce that she has filed a complaint with the county's Human Rights Commission against the county Ethics Commission. The Ethics Commission has just finished a clandestine, seven-month bogus investigation into Beyer's actions in which they secretly searched at least one County Council staff computer, failed to interview important and obvious witnesses, and leaked information about the investigation to uninvolved parties. The Ethics Commission last week concluded that Beyer had acted in her capacity as a County official to "intimidate, threaten, or discriminate against" a person collecting petition signatures at the Arliss/Piney Branch Giant in Takoma Park on February 17, 2008. This conclusion was formed on the basis of statements by the Citizens for Responsible Government (CRG) volunteer who was allegedly harassed, a statement by the president of the CRG,
Ruth Jacobs
, who was not present at the scene at all, and a statement signed by the Giant manager submitted in Ruth Jacobs' handwriting. It should be noted that I was at the scene of the alleged incident, along with several other TTF members, and none of us were contacted for any statement. You can read a description of our visit to the Arliss Giant
HERE
. Scroll through the February 2008 archives of this site for descriptions of similar encounters with petition handlers. Any real investigation would have included a Google search that turned up these Internet narratives about the incident and the names of potential witnesses.
The Citizens for Responsible Government, or "shower-nuts," as they are known locally, were gathering signatures for a petition to re-legalize discrimination on the basis of gender identity after the passage of a bill by unanimous vote of the County Council. They were doing this by lying to people, saying that the new law would allow men to go into ladies showers and rest rooms. A number of us went to the sites where they were gathering signatures and told potential signers what the bill really said. In some cases we were able to get the shower-nuts to go home, some store managers kicked them off their property, and other times people decided not to sign after we talked to them. Call it democracy in action, free speech going both ways. In the end, a state appeals court threw out the referendum effort, as there so many fraudulent and irregular signatures that the group did not meet the threshold to get the issue on the ballot.
Dr. Beyer's complaint states that the ethics commission searched her office computer for evidence that she had communicated with activist groups including TeachtheFacts.org, Equality Maryland, and the Human Rights Campaign, and searched her computer for evidence of activism in promoting the nondiscrmination bill. None of that is of course against the law or improper in any way. They also investigated whether she had posted County Council emails on activist web sites, meaning, I assume, whether she had posted some emails on this blog (for instance, letters I posted
HERE
and
HERE
), where nutty people threatened the Council and the citizens of the county. Those emails are public record and the Ethics Commission found no evidence that Dr. Beyer had posted any Council correspondence on any web site. In fact all the charges but one that were initially investigated were dismissed.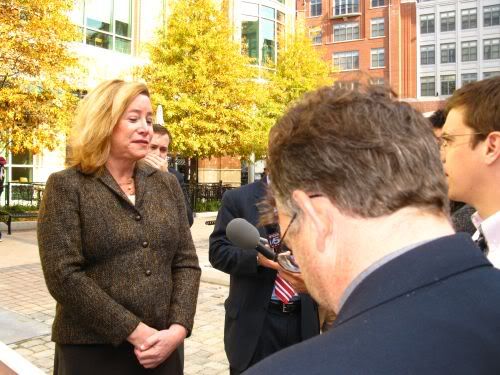 The complaint also asserts that information about the investigation was leaked to other county officials, which is a violation of the ethics law, and called for investigation of the Ethics Committee itself by the Human Rights Commission of Montgomery County. The statement says, "The only conceivable purpose of this leak -- and its certain effect -- are to compromise my effectiveness as a staff member for Councilmember Trachtenberg, make my job much more arduous and difficult, and embarrass me in the eyes of my colleagues and superiors. And these actions have not been taken with respect to any other employee other than one who is transgender." Dr. Beyer is a transgender woman; this appears to be, ironically, the first case invoking the county's new gender identity nondiscrimination law.
The complaint does several times point out the unprecedented nature of the investigation, including rummaging through a county official's computer and leaking information about the investigation -- these things have never happened before in this county. The conclusion was based on the statement of the alleged harassment victim, Steven Harold Schaal, who said "[h]er exact words, ,… I don't remember the exact terminology…..I can't quote her directly." Still, it is alleged that Dr. Beyer said she was acting in her role as a county official in talking to the CRG volunteer about the petitions.
Dana Beyer is an LGBT activist, and has been as long as I have known her, going back before she worked for Councilwoman Trachtenberg -- in fact, I'd venture to say she was hired for the position
because of
her activism. She is a retired eye surgeon whose reputation as a spokeswoman for gay, lesbian, and especially transgender rights is recognized all over the world. It is not rare in the political arena to find people who hold strong views and act on them, and it would be nonsensical to prohibit those people from serving in the public interest. The Ethics Commission here appears to be functioning as a political entity to shut down the activism. The charge of intimidation of a citizen by a county employee acting in her official capacity is ridiculous and unsupported by evidence or testimony, and the fact that the commission failed to interview people -- me, for instance, and other TTF members -- who were obviously on the record as being at the scene of the incident tells you that the so-called investigation was entirely incompetent. We blogged photographs of the alleged harassment victim and other shower-nuts at the Giant, and a detailed description of all interactions that I observed; none of this was included in the investigation. The investigation was requested by the CRG and was inappropriately influenced by them; the Ethics Commission failed to interview anyone with information that may have exonerated Dana Beyer, and did interview individuals who had nothing beyond a purely political connection with any of the alleged incidents that were investigated.
Dana Beyer will be running in 2010 for a Delegate seat in the Maryland legislature. The timing of this investigation and its finding are clearly calculated to inflict maximum political damage on Dr. Beyer's campaign as well as that of her boss Duchy Trachtenberg, who is also running for re-election in 2010. The investigation itself is easily seen as an act of harassment against Dr. Dana Beyer because she is a transgender woman in an environment where gender identity became a focal issue. The political background to the investigation and its findings is not pretty, the commission leaked information to political rivals in order to allow them to spread rumors, and the blow-back is going to be intense as we head into the 2010 election season.