Have Fun With This Graph
Today's election day. Several states have marriage equality and other LGBT rights issues up for a vote.
The
New York Times
blog had this chart today, which is kind of fascinating. I will use their description of how it works:
My colleague Adam Liptak has a piece in The New York Times today about the disconnect between the public acceptance of gay marriage and its legal adoption. In his article about a California case, public opinion on same-sex marriage (at least in the form of Proposition 8) appears to lag behind the more liberal opinions of the bench.

But in many states, and on many other gay rights issues, the lag seems to go in the opposite direction: legal and policy responses (whether from the legislative or judicial branch) lag behind much more liberal popular opinion.

The chart below gives a nice summary of state attitudes on gay rights issues, based on estimates from national polls. It's from a new paper, by Jeffrey R. Lax and Justin H. Phillips, both of Columbia University, that was recently published in the American Political Science Review. (Methodology for the survey estimates is on page 32 here.)

Bubbles are placed to represent public opinion on a gay rights issue, with bubbles farther to the right indicating greater public support. For example, the red bubble on the line for California shows that slightly less than half of Californians say same-sex couples should have the right to marry.

Filled-in bubbles signify that the policy has been adopted in that state (either by legislative or judicial action). The red bubble for California, for example, is not filled in, indicating that gays in the state are not currently allowed to marry. Does Policy Trail Public Opinion on Gay Rights?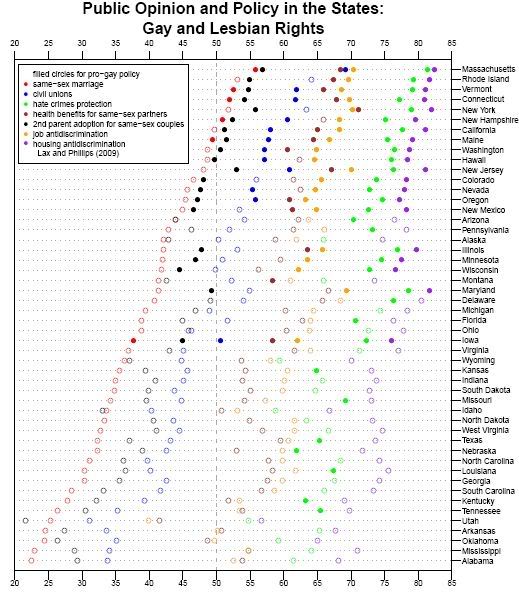 There's a lot of information in this one graph. You can spend hours staring at this crazy thing.
I hope we win today! Lots of close ones.