Showernut Ugliness Continues
Somebody forwarded a newsletter to me from the group that now apparently calls itself Maryland Citizens for Responsible Government. The email came from their president Ruth Jacobs, and the subject line was:
CALL NOW-Stop "MD BATHROOM BILL"
Here's the meat of the email.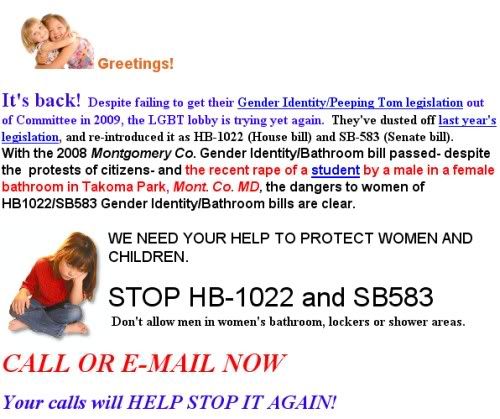 There was a
terrible rape
on the Takoma campus of Montgomery College in January. A guy crawled into the stall of a ladies restroom in a quiet building and attacked a student for an hour. It was a terrible crime, and the college community was shocked by it.
Dr. Ruth Jacobs and her group want you to believe that that rape had something to do with the Montgomery County Council unanimously passing a bill prohibiting discrimination on the basis of gender identity in employment and other things.
This is evil, people, this is hate in its purest form. The rapist was not transgender, nor did he pretend to be. He went into the women's restroom to attack somebody, he didn't go in disguised as a woman or justifying his presence there by claiming to be transgender. He is a violent criminal who went into the restroom to commit a crime.
Yet Ruth Jacobs and her group hate transgender people so much that they will use this horrible crime to justify discrimination against them.