Marriage Loses in NC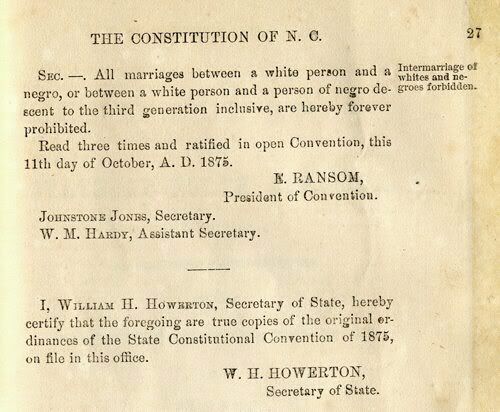 From the
Charlotte Observer
:
Riding a Bible-influenced coalition that cut across political and racial lines, the marriage amendment stormed to approval Tuesday, making North Carolina the latest state to put stronger legal barricades before same-sex unions.

With 90 percent of the counties reporting, the constitutional amendment to make marriage between a man and a woman the "only domestic legal union that shall be valid or recognized" won resoundingly, 61 percent to 39 percent.

It goes into effect Jan. 1. North Carolina has had a law banning same-sex marriages for 16 years.

Turnout, fueled largely by the marriage debate, was the largest for a primary in decades, election officials said.

"This was an issue of standing on the principle of God's word that marriage is between one man and one woman, and I believe that message has gotten across," said the Rev. Mark Harris, pastor of First Baptist Church of Charlotte and a leader in the state campaign for passage.

North Carolina becomes the last Southern state – and the 31st overall – to pass a "defense of marriage" amendment. Such measures have yet to lose. Eight states, plus the District of Columbia, have passed laws allowing same-sex marriage.

Opponents of the N.C. amendment called it a threat on a variety of fronts, from domestic-violence protection and health benefits for unmarried families, to industrial recruitment and job retention.

But for most voters, Tuesday's decision appeared to be a referendum on gay marriage.

"The pro side could have not spent a single dollar, and they would have still won by double digits," said Tom Jensen of Public Policy Polling in Raleigh.

Duke law professor Mike Munger said the amendment's real impact might not be known for months.

"The screaming, excruciating paradox of all this is that supporters wanted to take this out of the judges' hands. Clearly it will have the opposite effect," Munger said. "…There will be litigation, and judges will have to decide what the darn thing means."

The amendment lost in the state's largest areas, including Charlotte, Greensboro, Asheville, Raleigh and Durham. But it ran strongly almost everywhere else.

Amendment One: N.C. voters approve measure to block same-sex marriage
There isn't much to add. The city folk were against it, but North Carolina has a large rural population, they are church-going people who believe what they are told, and are slow to change. It's going to take some time.