They Gotcha Coming and Going
I see the Montgomery Community Television show
Citizen Link
is going to host the radical cell that has worked so hard to undermine the public school system. Bizarre -- it's just like nothing happened. Sue the county, take their money, and then let the county promote your extremist cause for free.
Show 15 will feature Michelle Turner, Steve Fisher, and Ruth Jacobs from CRC, plus Richard Cohen, of the Parents and Friends of Ex-Gays and Gays (PFOX). No, wait, that would be PFOX-GAG, they must just mean Parents and Friends of Ex-Gays. (Because ... we know that gay people don't consider them their friends (see
LINK
).)
The show's web site has links to some PR stuff on each of them. Ms. Turner's name links to a profile on her at the Mormon-based United Families International web site, telling about how wonderfully her lawsuit went and how nice the Parents and Friends of Ex-Gays and Gays are. Great quote from Ms. Turner:
"I think if we allow the liberal sex education program to happen, we will see the end of families and it will serve a tremendous blow to society."
(Please, people, pause and meditate on that statement for a moment. Liberal sex-ed ... the end of families... I hope you appreciate the profound thought that goes into something like that.)
There is also a link to the flyer for the CRC town hall hate-fest, where the various national organizations sent in their guys to whip up the anti-gay frenzy. Steve Fisher's name links to a radio interview and a blog post that links to ... the same interview.
The strangest, though, is PFOX's Richard Cohen. According to this Montgomery Community TV site, Cohen,
"a psychotherapist and educator, is one of the leading experts in the field of sexual reorientation and the author"
of some books.
Now, I am thinking of Montgomery Community Television as a community channel. I see they receive funding from the County Council. And I would like to think that my community is reasonable and well-informed.
I would be offended if the TV channel put somebody like Richard Cohen on with a sweet bio and no mention of the fact that he was expelled for life from the American Counseling Association for multiple ethics violation. You'd hope they'd mention that. One of two things happened here. Either Cohen sent the TV channel his bio and did not mention this very important fact (and Montgomery Community TV and host Don Mooer did absolutely no research), or he mentioned it and the TV channel covered it up. You can't tell which of these things happened, but they sure are leaving out a big ol' chunk of the truth here.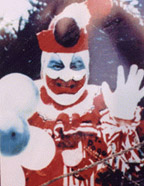 Telling the county that Richard Cohen is a psychotherapist, educator, and editor is like saying that John Wayne Gacy was a professional clown. In the field of psychotherapy, Cohen is at the bottom of the barrel. No doctorate, no scholarly publications, kicked out of the counseling association... His main professional focus, trying to convert gay people to heterosexuals, violates the policies of all mainstream medical and psychological associations. (I wondered how he got to be called an educator -- because it seemed ironic, given the campaigning that his colleagues have done to keep people like him out of the schools. Turns out he has done training for the Red Cross.)
I would be offended if my county's TV channel featured someone like the Citizens for a Responsible Curriculum and PFOX, and didn't mention that they had sued the school district capriciously, won on the basis of some background materials that were not going to be part of the curriculum anyway, brought in Jerry Falwell's legal-eagles, and then settled for lawyer's fees and undeserved membership on the citizens committee.
The story here for Montgomery County is that the elected school board was attacked by a radical minority who wanted their anti-gay and anti-safe-sex perspective inserted into the school curriculum. The curriculum was very tame by any standards. It did introduce the topic of sexual variation, as required by law, and it updated the video about condoms. But that almost didn't matter. The small group organized and established connections with national religious organizations such as the Family Research Council, Concerned Women For America, and others; they contacted Liberty Counsel, a law firm devoted to eliminating the distinction between church and state. They waited until days before the new curriculum was to be pilot-tested, then filed suit as if it were the last thing they wanted to do, though we have documentation establishing that they had begun planning it back in January. The lawsuit was full of allegations, most of which the judge rejected; his decision to issue a temporary restraining order against the school district appears to have been largely influenced by confusion in the complainants' documents about what was in the curriculum and what was in the teachers' background materials.
To tell you the truth, this makes me a little angry. This anti-MCPS group goes out on the county's television channel to promote their hateful views on the taxpayers' dollar. They take our money in the lawsuit, and they take it in free promotion on county-subsidized TV. This noisy minority of extremists set the curriculum back a year, wasted thousands of dollars and many hundreds of hours of people's time, and now they've conned the county into giving them free advertising.