Reason for Optimism
Kids are getting smarter than us, you know.
We were talking the other day about how times have changed, how teenagers today just don't see what's the big deal, why they're supposed to fear gay people. Of course there have always been differences in the generations, not just that, but lots of things.
I just came across some data from the Pew Research Center that tell a story.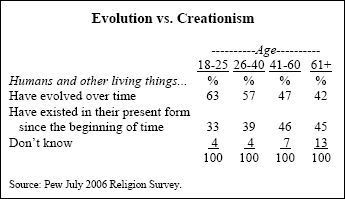 They say:
There is a clear generational divide on the issue of evolution: Nearly two-thirds (63%)of Gen Nexters believe humans and other living things evolved over time, while only 33% say all living creatures have existed in their present form since the beginning of time. Gen Xers share a similar perspective, though they are slightly more open to the idea of creationism. Here the generational divide is among those under age 40 and those over age 40, with Baby Boomers and Seniors closely divided over how the world came to be. 63% - Gen Nexters Embrace Evolution
Talking more about "Generation Next," if, I guess, that's what we call "the generation that came of age in the shadow of Sept. 11" (Pew's way of putting it), we also see that 58 percent of the 18-25-year-olds believe "Homosexuality should be accepted," compared to 50 percent of the 26+ geezers, and that only 32 percent of young people think "Homosexuality should be discouraged," compared to 39 percent of the toothless 26-plus population.
More to think about:
In their political outlook, they are the most tolerant of any generation on social issues such as immigration, race and homosexuality. They are also much more likely to identify with the Democratic Party than was the preceding generation of young people, which could reshape politics in the years ahead. Yet the evidence is mixed as to whether the current generation of young Americans will be any more engaged in the nation's civic life than were young people in the past, potentially blunting their political impact.
These data are consistent with my observations of the world around me, how about you?
When people are put in a situation where they have to choose between facts and faith, in the long run facts will win out. Faith can be adapted, has to be adapted, to new realities, as the horizons of knowledge continue to expand. This doesn't seem to portend any kind of spiritual vacuum or moral deterioration, there's no sign of that, but as the human race moves forward our attitudes will require frequent, if not constant, adjustments. And that's happening.