Countering the Petitions
Some of us went out to hand out flyers at the locations where the Citizens for a Responsible Whatever were trying to collect signatures to re-legalize gender-identity discrimination. I left the house at about eleven, headed out to Gaithersburg, where I found TTF's Christine just leaving the Watkins Mill Giant. She said she had talked five people out of signing the petition, but eight had signed during that time. Whatever, that's worth doing.
She had gotten a call that there was a crowd at Congressional, outside the Container Store, and was headed over there, so I tagged along. She took 270, I took 355, her way was faster. When we got there, the scene was kind of sad. There was one Muslim woman with petitions trying to stop people but hardly anybody would talk to her. She said she was a doctor, but then refused to speak with us any more when she figured out who we were. She kept telling me not to take her photograph.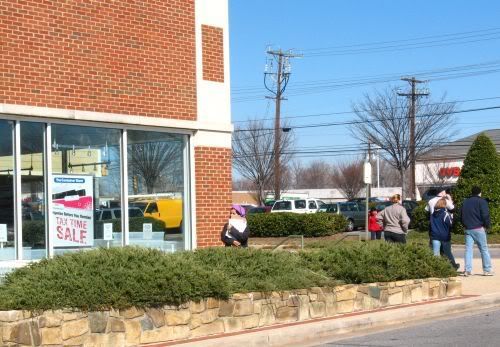 I went in and talked with the manager of the store. He said that they could collect signatures out there unless there were "No Soliciting" signs posted. He went out and walked around to see if there were any signs. There weren't. I explained to him how it looked when the Container Store was allowing this sort of behavior. He said that's just how America is, and I can't argue with that, though I wouldn't want somebody out front hassling my customers if I were him. Of course, in America the other side -- that's us -- also has the right to stand there with our own materials and tell people what the petition is really about. Whenever someone looked like they were considering signing the petitions, either Christine or I would explain to them that it's not about bathrooms, they want to allow discrimination.
Christine tried to talk to the lady. When people walked past her, she said, "How would you feel if there was a referendum to choose an official religion?" The lady tried to ignore her. This mind was shut tight.
After a while reinforcements arrived. I think there were two people, but only the one guy walked up from the parking lot with a sign-board. At this point the manager, Alexander, came out and had a little pow-wow with the Muslim lady and the new guy. I don't know what they said, but the new guy went back to his car with the sign-board and drove away. The first lady stayed.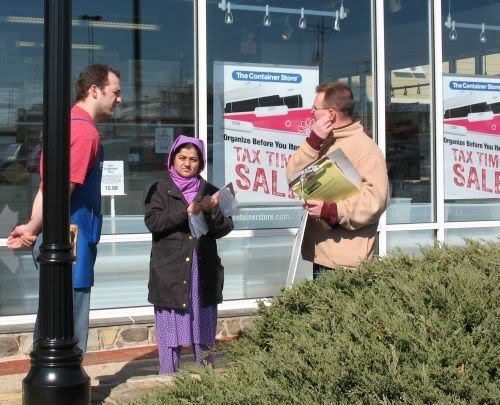 Then we got a call to go out to Germantown. Northwest High School has a thing on Saturdays for Chinese students, maybe a thousand of them, and the shower-nuts wanted to capitalize on that. When we got there, Maryanne Arnow was talking with a guy with petitions, whose name we learned was George Zhang (he wouldn't tell me when I asked). According to Maryanne, he had been inside the building at first, and then had decided to stand out on the sidewalk.
This guy was weird. He had a handmade sign that said "Protect Our Children." I walked up and said, "How does this protect our children?" He looked at me like a deer in the headlights, as they say. Because, really, it's about discrimination, there is absolutely nothing in this law that has to do with children. He didn't know who I was, if I was friendly or not, but either way, he had no answer to that simple question. Allowing discrimination against transgender people does not make children safer in any way.
I introduced myself to Maryanne -- we only knew each other through the blog and had never met -- and she wrapped me up in a big overwhelming hug. I'll tell you, she can talk! I saw her working on several of these people during the day. She is an effusive transgender woman, articulate and apparently immune to fear, likes to give hugs and make friends with people. While we were there, her friend Cynthia came up, a lovely brunette transwoman with a quiet sense of humor and a collection of facts about this issue, little things like details from the Diagnostic and Statistical Manual and paragraphs of the nondiscrimination law that nobody else has noticed. I imagine her having a huge file cabinet bulging with scraps of paper containing incredible, little-known, highly-relevant facts.
I started taking some pictures of Mr. Zhang and he freaked. He whipped out his cell phone and started telling somebody we were harassing him.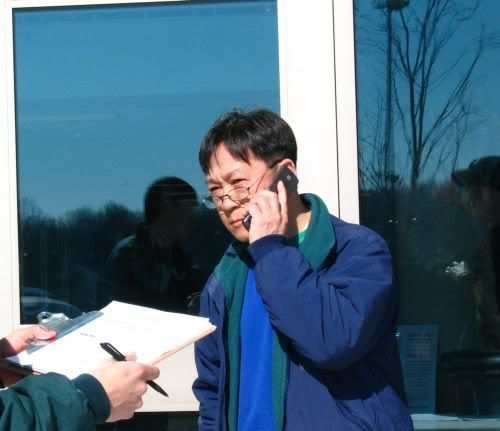 He hid his face, saying, "Stop taking a picture of me. I'm being harassed. I'm being harassed."
It does seem strange to me that they'll commit themselves to standing out there, lying to people, but ... they won't let you take a picture of them? What are they ashamed of?
I was flattered when he told the person on the phone, "Jim Kennedy is here." I had thought he was calling the cops, but apparently he was checking in with headquarters. He'd heard me introduce myself to Maryanne.
While we were standing there, the door opened and a man in an Montgomery County Public Schools Security uniform came out. He told George, "You're not authorized to be here," and made him pack up and leave. I tried to take a picture of this but my camera didn't work right, and I just got a picture of the roof of the building. It was satisfying, seeing them thrown out of there.
We heard there were people on the other side of the building, and went around there. Now there were four of us: me, Christine, Maryanne, Cynthia. An older couple were carrying their table out to the car, they had been chased off, too. We stopped and talked with them. They were pretty hard-core. The lady said that if you prevent discrimination against transgender people it will "open the door to all kinds of nuts." She couldn't really back that up, but it was clear she wasn't going to see our point. The man called somebody on the cell phone. He kept saying, "We got five of them here. Five of them." But there were only four of us, see how that works? They just can't tell the truth, they've always got to exaggerate. It's not like if there were ninety-nine of us and he said there were a hundred; there were four of us, one two three four, not five. I think they were going to go set up by the street, which was not close to the school building. I doubt that worked very well for them, but I'm not sorry.
There are some questions here. The Chinese school apparently has a deal with Montgomery County Public Schools to use the space. I can appreciate that, I assume they have classes in Chinese, maybe some cultural things you wouldn't get at an American public school. If I lived in China, I think I'd send my kids to an American school on Saturdays, you know, to let them learn about hamburgers and stuff. But the school district did not give permission to the shower-nuts to gather petition signatures there to promote discrimination. It looks like the Chinese school gave the permission, but it's not their building, they are guests there. This raises a question to me: if people sign your petitions while you're trespassing, are those legal signatures? I would think that the Board of Elections might want to throw those out. I also think the principal of Northwest High School might want to reconsider whether she wants to provide hospitality to these bigots. Maybe the Chinese school should be held in a church or something, not public buildings supported by taxpayers.
There is a similar question about signatures obtained in church. Are signatures solicited in a church valid for use by government? I don't like the sound of that.
For that matter, I think there might be an issue about signatures obtained over the Internet, where people witness their own signatures online. Like, everything on the Internet is true, right? I think the Board of Elections will want to look very carefully at some of those.
It's funny, the CRW recruited people to carry the petitions, and gave them some cliches to repeat, but apparently never really told them what the law was about. Some of them didn't know the answers to any questions, and they would try to repeat the slogans, but this is funny: their whole argument is based on a scary stereotype. And I can't tell you how un-scary Maryanne and Cynthia are. When they're talking to you, the whole case about transgender sexual predators goes down the toilet. It is really a very effective way to deal with this situation. You can call it "education."
By the way, we got an email from an upset person who signed the petition at the Fallsgrove Safeway. One of the group's flyers says "Just the Facts" at the top, this person passing by said, "Oh, are you Teach the Facts?" and they said yes, so the person signed. They were embarrassed afterwards. I told them, it was just a mistake, don't worry, they need 24,999 other people to sign. I also asked her to contact the Board of Elections and tell them what happened. If something like this happened to you, the board's number is 240-777-8500. I don't think they're open on Monday, call Tuesday. Tell them that the group is misrepresenting themselves, and ask to have your signature removed.
Since the people were kicked out of the school, we decided to go check out Leisure World. Maryanne is an upcounty girl and knew a shortcut, zig-zagging across those rural roads -- it's a long way from Germantown to Leisure World, and we caravanned in four cars, led by Maryanne's gold and green Lincoln Towncar. She said it has 260,000 miles on it, pretty nice. Oh, and she goes like a bat out of hell. I was in the second car, I could see her smoking and talking on her cell phone as we raced across the countryside. Behind me, Christine was ... I guess you'd call it dancing ... in her car, listening to her new Mavis Staples CD. Cynthia has some sort of hybrid Honda and said it was a little hard to keep up with us.
We cruised through the parking lot at Leisure World and didn't see anything, so we went into Starbuck's for refreshments. Dana Beyer showed up, and so the five of us sat and yacked about stuff. There is a lot going on with this nondiscrimination bill, Dana was explaining how the legislative process works, how long everything takes, how a bill gets introduced. One thing about these transgender ladies, there is some really funny humor going on. They have to look at the world differently from the rest of us, because lots of people really don't understand them and so they deal with some stuff the rest of us don't have to think about, and there's an edge to their joking that is really incisive and to-the-point. We laughed a lot there, and people stared at our group. One World War Two vet hobbled over and kind of flirted with the women, while his wife tried to pull him away. Remember, this was Leisure World.
I'm a straight guy of an ordinary sort, and at least for me it takes some adjusting to hang with this crowd. The pronoun thing is always tricky, these are women but usually there are some male features, or mannerisms that they learned when they were men, expressions and gestures that you don't expect of a woman, and if you don't pay attention it's easy to say "he" instead of "she." Somebody commented when I said "you guys" to refer to them, but I know that's what I'd say to any group of women; the thing is you do feel self-conscious and don't want to make a mistake. I'm a kind of person who doesn't claim to be perfect, I screw up sometimes, if it seems important I apologize, but I don't kick myself needlessly over an honest mistake. I'm just a regular idiot about these things, and if I say something wrong, since they know I mean no harm, no offense is taken. At least I hope so. It's not so hard, and they are so interesting to talk to you don't worry about making the occasional faux pas.
It was cool to hear the stories. Each of them had heard of women, lesbians mostly, who had been kicked out of the ladies room because they were too masculine, something the shower-nuts don't seem too concerned about. We discussed the cootie theory. You wonder why some people are so freaked out over somebody's nonconformity, why it is such a big deal if a transgender woman uses the ladies room. Maybe the problem is they're afraid they're going to catch cooties. Well, it makes as much sense as anything, don't you think? There was also more serious talk about the dynamics underlying some of this, the fear of men, protecting the chastity of women. It's complicated stuff, and everybody has a theory.
We got up to leave, with hugs and kisses all around, and as we were walking to our cars we discovered that while we were drinking coffee the CRW had set up a petition table outside the Giant. A guy with a baseball cap was standing there, trying to get people to sign up to re-legalize discrimination, so we walked over there and started talking with him. As I mentioned, when these ladies are talking to you, the whole stereotype falls apart, they are not dangerous in any way. Like they'll say, do you want me to go into the men's room? This is a lady with long hair, diamond earrings, makeup, perfume. You look at her and you know she has to use the ladies restroom, and you know there's no problem with that.
I went into the Giant and asked a manager named Rico what Giant's position was on promoting discrimination. He said they'd given the group permission to get signatures out there. I asked him if they would've given permission if it was the Ku Klux Klan. He did give this some thought, but he wasn't going to be responsible for anything. He offered to give me the corporate office's phone number. I didn't want it. I pointed out that this would not help Giant's reputation in the community, and that he could change his mind. I think that basically he didn't want to think about it.
Outside again, a lady came up with her full shopping cart and said she had already signed the petition. She had white hair and beautiful blue eyes, a spunky older woman of a type I stereotype as a "rancher's wife." Maybe that's because I came from Arizona, where there
are
ranchers' wives. She said, "I think women should go in the ladies room and men should go in the men's room." So these transgender women chatted with her. At first it was a little tense, but as they talked it became clear that they agreed, women -- including them -- should use the ladies room. This ended with hugs, and the lady trucked her groceries out to the car, smiling.
The group stood around talking for a long time, maybe an hour. I thought it was funny, at least, the guy didn't get one signature during that time. You don't have to win the argument, just engage the enemy and the battle is won. But as the conversation went on, he -- his name was Jeff -- started laughing more and they all seemed to be becoming friends. I stayed out of it mostly, it seemed that Maryanne, Cynthia, and Dana were handling it well, with Christine throwing something in every once in a while. I took some pictures.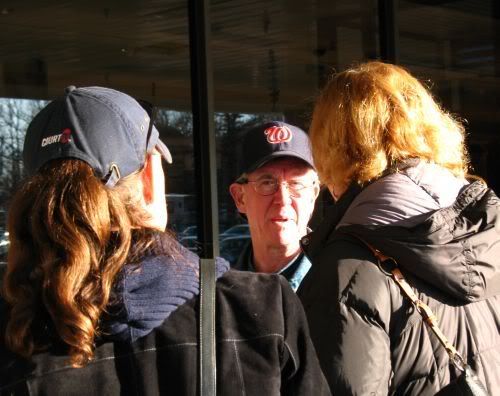 The sun was coming in at a sharp slant as the day was drawing to a close. This picture is a reflection in the window at Giant, showing (left to right) Cynthia, Christine, Maryanne, Dana, and Jeff standing around the table talking.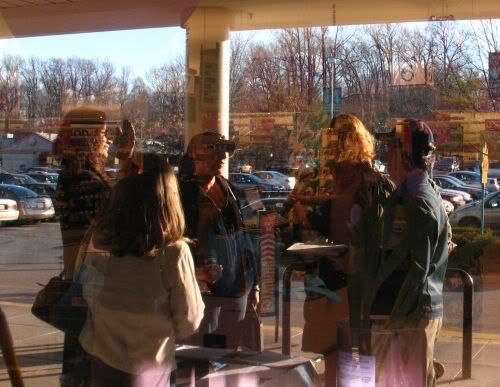 After a while, Jeff starting piling up the clipboards. He said he was going to have to go home to think and pray. He knew he was doing wrong, and he was making it right by stopping. The conversation ended with a nice hug between him and Maryanne:
Tomorrow they've got one last chance to get the signatures they need. It looks like they plan to hit the churches. Some of them are big, thousands of people, but I don't know about the legality of collecting petition signatures in a church. Whatever, I am pretty sure there will be lawyers looking at every aspect of this.
Here's what this comes down to. It's easy to talk about people like they're monsters, as long as they are not present. But these transwomen, you gotta say, you just can't see them as evil or dangerous, they aren't promiscuous or predatory or anything else. Usually it is not hard to tell that a woman used to be a man, and there is some language confusion in that, some role confusion but not much, you may feel uncomfortable sometimes but that is easily overwhelmed by their personal magnetism. These were some really likeable people, funny, smart, challenging you with their ideas, not the evil stereotype the shower-nuts want you to imagine.
By the way, that phrase "shower-nuts." You might have seen a discussion in the comments recently, where Maryanne didn't like me calling them that, and I explained why I think it's okay. I mentioned there, the people who sign these petitions are not necessarily shower-nuts. Most of them have no idea what the issue is. They are told that a law will let men into the ladies room, and they are against that, of course. They're told our children are not safe, our women will have no privacy, and they're against that. They're told that this is a Teach the Facts petition. So they sign it. They are suckers, they are not very smart to sign something when they don't know what it is, but they aren't the enemy. The people who carry the petitions, as well, are mostly volunteers from the churches or wherever, they aren't real shower-nuts. They are given some instructions about what to say, they are gullible enough to think that's all there is to it, and they go out and gather signatures. They think they're fighting immorality or protecting women or something, I don't know, but I assume that most of them are just trying to make the world a better place. The shower-nuts are the tiny core group of people who generate these ideas. Lately I have been hearing that there are seventeen of them, but this campaign seems to be mostly two: Ruth and Theresa. The peripheral members, Steina, Susan Jamison, Michelle, some of the others, are also shower-nuts. Maybe there are seventeen of them altogether. They want to make it legal again to discriminate against transgender people, and they don't care who they lie to or what they have to do to get that.
One last thing. We got the robo-call today at my house while I was out. My wife got it. She was not impressed. She said the points they made were ridiculous and none of it was convincing. Last night I got a call from a TTF officer who had received the call and she thought it was more professional even than Hillary's campaign robo-calls. She said it sounded expensive and persuasive. I haven't heard it, I can't tell -- hey, if you get one of these on your voicemail or answering machine, save it for us, would you? I'd love to hear this.