Sunday: Too Hot
Sunday morning, sevenish. I just went outside for the paper, dreading that moment when you open the door and step outside and your body instantly breaks into a sweat, when the heavy humid air holds you down so it's hard to walk, hard to breathe. So far though it's not that bad. Yesterday was miserable. I went out and bought propane for my new in-advance-of-Father's-Day grill but there was no way I would stand out there over a fire. Maybe later today, maybe some evening this week. We stopped at some yard sales yesterday and people were sitting out there sweating and complaining. But man, you should see the recliner we got for five bucks.
Right now the birds of the neighborhood are singing about the coolness. I don't hear my favorites, the mockingbirds, I think they have wisely decided to sleep in, these sound like sparrows mostly chirping in the leaves of the trees. The whole neighborhood is full of the sound. They sound glad to be able to breathe and sing and move around without overheating.
I seem to have caught the cold that everybody has had. It went through my family, picking us off one at a time, and now I guess it's my turn. It's not worth complaining about, a little crud in the throat, some sneezing, some coughing. I sat down at ten last night -- Saturday night! -- to watch some TV (in that new recliner) and ended up falling asleep. Well, if this is all it is, then I guess I'll be all right.
Usually here we talk about strictly local things. But it seems to me that a lot of the attention, even in day to day conversation, has to do with national things. My wife bought groceries yesterday, and after an hour and a half at Safeway she came home with no meat. She could not force herself to pay those prices. Do you know why food is so expensive? Well, here's a clue. On Friday, the price of oil went up by more than
ten dollars a barrel
. You don't suppose it has anything to do with the White House's deal with top oil executives in the early days of this administration, do you? The oil companies
want you to believe
that there is something magical about a free-market ecnomony that forces them to charge what they charge for gasoline. They know the American public is too stupid to understand what it means when the oil corporations keep having record profits, all the facts point one way but they explain their "intentions" and we're supposed to believe that market pressures force us to pay four bucks a gallon while they get rich. And it's working, there is no big outcry in the US, people mutter under their breath but at least we've been trained not to cause trouble. But you see, even if you're talking about meat prices, it goes up to the federal government, we're getting screwed in everything we do at the personal level.
People tend to believe you when you say why you did something. I mean, really, as every thirteen-year-old girl knows, you can give somebody a fake name, make up a whole story about yourself, and they'll believe you. There is a certain agreement among people to tell the truth, and when somebody speaks we assume we can believe them. And that's fine when you're talking about objective things, say, which car went through the intersection first, things involving physical objects. It gets much more difficult when you are talking about people's motives. Like - why are we in a war in Iraq? Is it so our President could one-up his father? Is it for the defense contractors to get rich? To get the oil? Is it supposed to have something to do with 9/11? Uh, I know it's not this, but were we so opposed to a second-rate dictator that we invested our entire national treasury in removing him? Is it a religious war? Something as simple as that, the decision to go to war, and you try to untangle the reasons for it, and it's just impossible. So when the oil company guys pull out these charts and numbers and explain that it's not their fault that we can't afford to drive or eat any more, while they're making billions of dollars in profits, it just gets so complicated that you can't win. If you try to debate it with them you'll lose, because it will boil down to trivia. What they all need is a good spanking. Wouldn't that be fun? Just shut up and bend over, we don't want to hear what you say your reasons are. And don't try it again.
They're trying to use corn for fuel instead of petroleum products, and that affects food prices. They have to truck the produce from the farms and out of warehouses, and that affects prices. Everybody who works on the product has to drive to work, cowboys need to fill their pickup trucks, lettuce-pickers need to charge their iPods, slaughterhouses need to keep a jolt in their stun-guns, companies have to heat their buildings, everything depends on fuel. And so hamburger is four-something a pound.
The Democratic Party finally settled down this week, they picked a candidate. I watched some of Hillary's speech the other night when it was obvious she'd lost, and I kept waiting for the part where she supports Obama, that was a little frightening. She didn't want to quit, and I admire her for that. The two of them fought it out, and the Democrats definitely need somebody tough. When I saw both of them speak in one day in Iowa last year, I kind of liked her better. She seemed more professional, more knowledgeable about the details of policies, but he was an excellent speaker and a fast thinker. He'll be a quick study in the White House. At the end of the day I would be happy with either of them. Through the primaries, the Darwinian forces worked in favor of Barack Obama, his star began to rise early on and kept rising, and now he's the candidate, it looks like.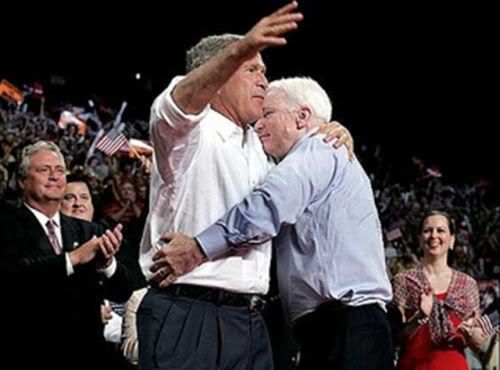 On the other side, the Senator from my home state of Arizona is running for the Republicans, which is just fine with me. Seems like a nice guy, funny, likeable. Let's see who wins, I'm not taking sides.
I'm not very interested in politics, you know. I am interested when I discover I don't make enough money to live on because of decisions that were made by elected government officials. I am interested when my kids' friends are being sent to fight in wars that don't make any sense. I am interested when
polar bears are swimming
for hundreds of miles looking for an iceberg because the ice cap is melting, and nobody wants to do anything about it. I do get interested when one of our most beautiful cities gets washed away and the clowns we elected stand around making jokes about it while people stand in their attics beating on the undersides of their roofs begging to be rescued. But the political process, the parties, all of that, not too interesting to me.
I'd like to say that none of this is really partisan politics, but you have to be aware that the Republicans, including Senator McCain, voted together unanimously on everything that has happened in the past seven years. An election year like this is going to produce a lot of stories, there will be a lot of lore to comment on. Imagine - a black man running for President of the United States! I mean, just imagine. And it's not because of his race, his race has nothing to do with it, he just seems like the best guy for the Democrats to run. This is amazing, a primary runoff between a woman and a black man. Things have definitely changed in this country. And imagine that, an old white guy on the other side. I suppose that makes the choice easy for some people.
Other stuff in the news lately - Scott McClellan's shocking book tells us that the Bush administration lied to us about Iraq. Who would've ever guessed? You know, I have two thoughts about all this. More than two, now that I think about it. First of all, like a lot of people I wonder how the guy stood up there and repeated the lies to us all those years -- it is really possible that he didn't figure this out at the time? Everybody else knew it was all lies, at least everybody who was paying attention. People who depended on the mass media got the government lies as fact, but with a big Internet out there it seems irresponsible to rely on those corporate sources. I've said all along that when the history of this era is written, it won't be about the Bush presidency, it will be about the media. So, first I tend to blame McClellan for going along with it, but I understand how it is when you're caught up in something. He worked with those guys, he heard their side of things all day long. I am being nice here, trying to give him a break.
Interestingly the news story with McClellan's book isn't the new revelations that the administration lied, the news is about him, about his disloyalty to his former boss. They analyze his motives, try to explain how somebody could switch sides like that. Well, I'll tell you, I think it would be interesting to stand at a quiet bar with Colin Powell, too, and have a beer, and find out what he thought about Bush and the run-up to the war. Quite a few people put their professional and personal reputations on the line and were humiliated. I imagine there may be a bitter one or two in the crop, especially all those people who resigned and retired to spend more time with their families.
One thing I haven't commented on here is the recent ruling in California about gay marriage. Gay people will be able to marry there now, but the issue will be on a referendum ballot in November. So the question is, if you choose to get married now, what will happen if they reverse the law? It will be the first time a constitutional amendment has been passed that takes away people's rights, for one thing, and I personally don't see that as a good sign. Lots of people are getting married, they say five hundred couples a day, and November's still a long way off. This will be a major mess if the referendum passes and all those marriages are ... what? Maybe somebody can write something in the comments here explaining how the situation will untangle. If people are legally married, wouldn't those marriages still be valid even if the state doesn't allow new ones?
I remember going to some gay-rights thing and they had a sign-up sheet that asked questions like, "Are you in a legal partnership now?" "What state was the partnership certified in?" Stuff like that, and I was not sure how to answer. I was married in California in a chapel with a judge presiding, my wife's uncle. It makes you realize how different things are for gay and straight people. I take all the privileges of marriage for granted -- this week my wife tried to find out something from Verizon about our cell-phone account and they wouldn't tell her, because my name is on the line, and we were mad about that. Imagine if you encountered that with everything you tried to do. Well, the fact is, the snowball is rolling, this is inevitable, it's just a matter of time but if I was gay I'd want it to happen sooner rather than later.
Our county might become a major test case for an issue that rarely receives media attention. Some conservative members of our community want to deny equal rights to transgender people, and have put forth an effort to get a referendum on the ballot in November to repeal new wording in the Montgomery County nondiscrimination law. They got signatures by telling people that this would endanger their privacy, that perverted men would be able to lurk in ladies rooms. People are against that, no doubt, but there's nothing in the law about shower-rooms or bathrooms. It's about discrimination. These are the exact same people who didn't want the schools to teach about sexual orientation, you tell me they're concerned about showers all of a sudden? They don't like the gay people, the transgender people, they don't believe they should be treated fairly. It's not hard to figure out. Will they get their way in our county? That is an open question. Man, I hope not.
It was amazing to see that the Family Blah Blah groups in Colorado are using the
exact same approach
to repeal a law out there that gives rights to gay people. I mean word for word exactly the same. Different issue, same propaganda, they say if gay people have rights then predators and pedophiles will hang out in the ladies room. It's crazy, but it worked here, so they're trying it out there.
Our local issue will be heard in court soon. There were many problems with the signatures that were gathered, but the county Board of Elections certified them and now some citizens have sued the Board. Hopefully a judge looks at the evidence and throws the referendum out. If that doesn't happen we will see a lot of attention paid to our little county. Our transgender friends will be in the news a lot. A bunch of political money will have to be invested on both sides. I really hope it doesn't come to that. The shower-nuts made their point, people really don't want men to hang out in the ladies room, but the people of MoCo are not interested in discriminating against people who really could use a little bit of kindness and respect.
If it comes up for election, the whole question -- the entire question -- will be whether the voters understand the issue.
Well, I've been sitting here off and on for more than three hours. The sun is beating down out there now through a nasty haze, the AC is going constantly (great, Pepco bills!), the air outside is heavy and dead and the birds have fallen silent back in the shadows of the branches. It's a good day to stay indoors, especially with this cold. I have four or five projects I'm working on, I'll listen to a little music, play with my camera (I found some software that lets you hack into the camera and make it do amazing things), my recording software, the food-dehydrator, my new grill, take it easy, maybe have a nap later. Sounds tough, doesn't it?