Site Visitors Over Three and a Half Years
We started this blog in December, 2004, so our first full month was January 05. The Montgomery County Public Schools were just coming under attack for trying to implement a sex-ed curriculum that talked about gay people and how to use a condom -- the US had just elected George W. Bush to a second term and the so-called "religious right" felt they had a mandate to make America a Christian country. There were a few of that type in our county, and they joined together shortly after the election with the stated intention of recalling the entire county school board. Teach the Facts got together a week or two after that, somebody volunteered to do this and somebody volunteered to do that, we had bases covered, and away we went, supporting the school board as they came under attack.
Here is a graph of "unique visitors" to this web site from January 2005 through July 2008.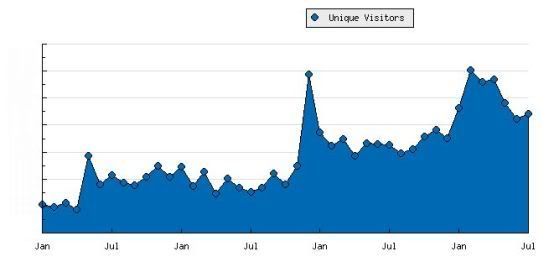 You can see in those first few months we had a steady but modest stream of visitors, mostly people who were involved in the controversy. There is a spike in May 05, when the school board voted to throw out the original "old new" curriculum and disband the citizens committee, after the school district lost a scuffle in court, and then after that, you notice, readership maintained a higher level.
I think that spike in December 2006 came when several major blogs linked to us. I had noticed James Dobson plagiarizing from one of his own writers in
Time
magazine, and several people used that and gave us credit for it. There is a spike of one-click visitors, but not everybody is really that fascinated with the goings-on in our little county, so they never came back.
But -- a lot did. After that spike there was a plateau where readership remained significantly higher throughout 2007 than it was in 2006. During this time, the controversy was boiling along. The school district was developing a curriculum, the CRC was threatening and lying and filing motions with the state and with the courts and everything else they could think of, and were being rejected left and right. Meanwhile, the schools got the curricula for eighth and tenth grades in place, pilot tested them, and everything was fine.
Late in 2007, the gender-identity nondiscrimination bill got the CRC's attention, as they realized they were losing in the schools, so the focus of the posts here shifted as
the exact same people
began to bad-mouth transgender people instead of gay people, who had held their attention during the curriculum battle.
There's another spike through Febrary and March of 2008, as the shower-nuts turned in their petitions and the pro-LGBT groups filed to challenge them, and interest has not dropped substantially since then. February, March, and April of this year had approximately six times as many unique visitors as we had in our first three months online, about three times as many as we had in 2006, and about twice as many as a typical month in 2007.
Just thought you'd like to know.