Political Talk: Polling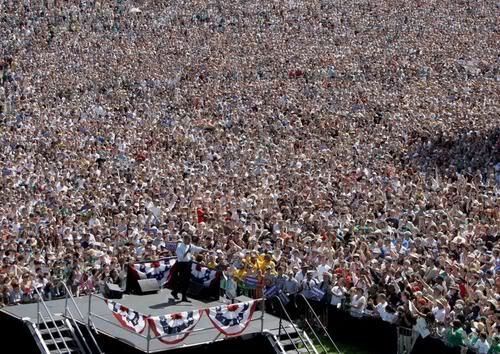 A friend of mine who I respect is beginning to worry that his guy might not win the election. He has his favorite poll, and it's not looking like a landslide. Other polls are different, nobody's got McCain ahead, some have an overwhelming Obama lead, and some are within the margin of error, or near it. Plus, do not underestimate the
Bradley Effect
, which can take several percentage points off Obama's lead, and maybe more in a race for President, nobody knows.
Also, it seems to me there is a landline bias. None of these surveys, as far as I know, call cell phones. So they're missing young people, people on the go, the technological early adopters, people who take their calls wherever they are. On the other hand, young people are notoriously bad about actually signing out of World of Warcraft and skateboarding to the polling site. So maybe the two biases will cancel one another.
Strange things. I talked to someone, a lady working in a drugstore, who loves Barack Obama. That's why she doesn't want to vote for him, she doesn't want something bad to happen to him. She'd feel responsible. Another guy I talked to didn't want to vote for him because he was afraid he'd bring people like Al Sharpton and Louis Farrakhan into the White House. This guy didn't like the alternative, either, especially the Vice-Presidential alternative, but he was going to vote Republican anyway.
I say, you don't know who wins until you play the game. Sometimes a weak team beats a strong one. Tuesday is going to be an important day in American history.
This post is for political discussion. Talk among yourselves.