Wish You Were Here
It looks like we're changing our plans a little bit. We had intended to spend a few days at Kangaroo Island, but that's getting a little complicated so instead we'll stay in Adelaide. There is another hotel we will switch to, at the beach. This is a beautiful city, everyone has been so good to us, there's a lot to see. We want to see the Aborigine museum and visit the Central Market tomorrow, now that the conference is over.
Today we went to Cleland Wildlife Park, outside of town a little ways. We got to pet a koala and some wallabies even let you get close enough to touch them. We saw wombats, kangaroos, a monitor, lots of emus, these little pointy-nosed rat-like things that are cute, beautiful birds including multicolored parrots that were flying around, and don't tell our daughter but we bought her a new purse made out of a kangaroo scrotum -- I'm sure she'll love it.
The kangaroos are a trip. As far as I can tell a wallaby is just a small kangaroo. There are definitely big ones and little ones, but the locals I talked to didn't know exactly where they change names. It looks awkward walking around on your knuckles, but when they hop they can really cover some ground efficiently. Koalas are cute but they aren't known to be very nice, they scratch you with their long claws and I am told that if you hold them they like to pee on you. The kangaroos and wallabies though look intelligent, and some of the wallabies have soft fuzzy fur, like a koala's. They'll come over and eat out of your hand and they check you out in an intelligent-looking way, deciding if they'll trust you or not.
Australia is amazing. It's a continent surrounded by water, so species evolved here separately while other species on the planet were evolving but interacting with one another. This is true for plants -- you should see the mountains covered with eucalyptus! -- and animals as well as the people who lived here and developed their own cultural and social systems over thousands of years.
Here's a kangaroo relaxing in the grass, I took this picture today. This one was sleeping, and it would roll over sometimes. It was big, too, you can't tell but some of these animals are bigger than a person.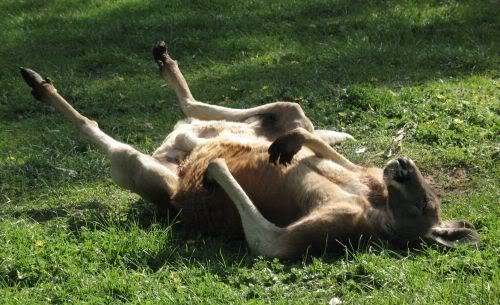 The other night they took us out for a dinner of bush tucker. Ah, I didn't know what that was, either. Technically I think bush tucker is supposed to be the food that Australian aboriginal people would eat, but I think it's grown beyond that to include gourmet meals prepared with native Australian species of meat and vegetables.
Here's another picture of a kangaroo: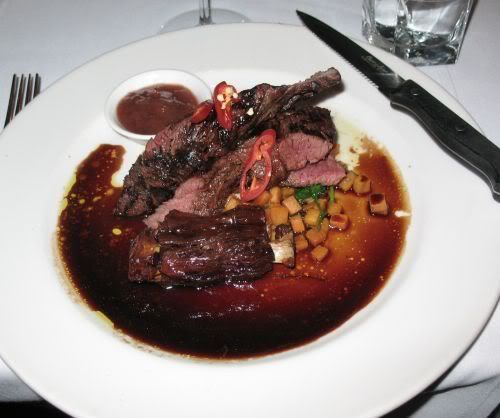 Turns out the kangaroo is not only cute but delicious. Kangaroo meat is delicious and lean. Everybody says you should not cook it beyond medium or medium rare. This was medium rare and perfect.
No more word on Australian "rules" football. Somebody compared it to Gallic football, played in Ireland, which I had never heard of. The reason all the TVs had the game on Sunday was because it was the championship. Now they're back to talking about normal things, like the collapse of the United States' economy. It seems that George W. Bush is hated here, and nobody understands why we elected the guy two times. I can't explain without using the word "nightmare." But really, that's so far away.