MoCo School Out for Inaugural?
Interesting political moment here in Montgomery County. They're thinking there could be as many as four million people coming to the Presidential inauguration, singing "Ding dong, the witch is dead." Four million people. You can't get a hotel room within 150 miles of the capital.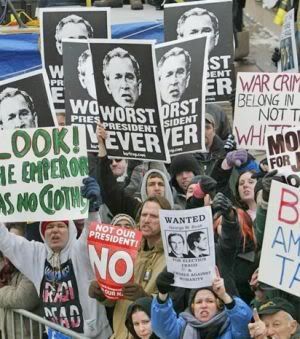 Do you remember the 2005 Bush inauguration? Let's just say, there wasn't a problem with gigantic crowds. You could get a room. Eggs, rotten tomatoes, all sold out; rooms, no problem.
The Obama inaugural will be an historic one. For one thing, the guy actually won the election -- when was the last time
that
happened? For another thing, people like him, the United States is going to pull out of our suicide dive, it is a time of hope and a feeling of renewal across the land. Never mind that it is mind-boggling to think that America has elected an African-American President, only a few decades after the civil rights movement hit its stride.
Ah, but he's a Democrat. It might be "partisan" to take joy in the downfall of a tyrannic, torturing, warmongering, environment-wrecking, abstinence-only-education-promoting, economy-crashing, freedom-depriving President who is being replaced with a leader with vision, a guy who can actually put a sentence together, with subject and verb, agreement between them, and a thought behind it.
I can't imagine anybody in Washington is going to be able to get to work that day, and I hope they are planning to give federal workers the day off. The Metro can't handle it, you won't be able to drive or park, it's not worth it. People want to be there when this new era in American history begins and the city is going to be crowded.
The plan so far is that Montgomery County Public School students do not --- repeat, do not -- get Inauguration Day off. While history is being made in their backyards, they will be in class. The first black President, the end of the inept Bush administration, it is a big day but it is not a planned holiday.
The Post
had something about it yesterday:
A Montgomery County school board member is offering a resolution to declare Inauguration Day a holiday in Maryland's largest school system, against the recommendation of Superintendent Jerry D. Weast.

More than 3,000 people have signed an online petition asking Weast to give students and teachers the day off, and the topic has burned up parent-teacher e-mail lists. Montgomery is one of a few large school systems in the Washington area that plan to hold classes when Barack Obama is sworn in as president Jan. 20.

Students in the District and in Fairfax, Prince George's, Loudoun and Arlington counties, among others, will be off, as will employees in most of those systems. School boards in Loudoun and Prince George's altered their calendars last week to allow the holiday. Charles County's school board voted Tuesday to give students the day off. Official Seeks to Make Inauguration Day a Holiday
MCPS Superintendent Jerry Weast wrote a memo to address the question.
MEMORANDUM

To: Members of the Board of Education
From: Jerry D. Weast, Superintendent of Schools
Subject: Implications of Closing Schools for the Presidential Inauguration

As you are aware, we have received numerous inquiries requesting that we close Montgomery County Public Schools (MCPS) for the historic Inauguration of President-elect Barack Obama on January 20, 2009. While I appreciate the magnitude of this occasion and the excitement it is generating, I do not recommend that we close schools for the day for several reasons. As we have only four contingency days built into the calendar, relinquishing one for the Inauguration will leave us with only three which could result in having to extend the calendar in the summer by one day. In addition, I am greatly concerned that many parents will not have the day off from work and thus will be presented with child care dilemmas that will cause families significant hardships. We have heard from families expressing this concern. Another important reason is that we have about 36,000 students who receive free and reduced-price meals from MCPS and thus could be forced to go without breakfast or lunch that day if we do not open schools.

It is unrealistic to believe that vast numbers of our students or staff will be able to physically attend the Inauguration because of the difficulty of obtaining tickets or to attend the parade because of the magnitude of the crowds. We also do not know what the weather will be on that day and what impact that may have on a family's decision to attend
the events downtown. Thus, I believe that the classroom provides an excellent venue from which to watch this historical event unfold. Principals and teachers will be prepared to celebrate and hold class discussions and make certain this is a special day for all students. The Office of Curriculum and Instructional Programs is developing
appropriate grade-level lesson plans for teachers.

Below I have provided additional information about the significant financial and instructional implications that I have considered, especially given the difficult economic environment.
And then he goes into details.
So Weast doesn't want to let the kids out that day. He's got a lot of reasons.
The school board will be meeting December 9th, and they will consider this topic. Here is board member Christopher Barclay's memo on the topic:
I appreciated reading the superintendent's November 15, 2008, memorandum outlining his concerns about the possibility of closing Montgomery County Public Schools for the historic inauguration of President-elect Barack Obama on January 20, 2009 (attached). I do not minimize the cost of losing one instructional day in the event of an unseasonal winter; neither am I unaware of the costs that we will likely bear from the spike in employee absences on that day. One fact that is not in dispute is that this inauguration will be one of historic proportions, unlike any event that we are likely to witness again in our lifetimes. It is one that calls for individuals and families to celebrate and savor the moment and reflect upon the journey that has made Mr. Obama the first African-American president of our great nation. I think that as leaders of our school system, we have an opportunity and an obligation to have a discussion about the desirability of closing schools not only on this Inauguration Day, but on future inauguration days. I believe that regardless of the unique historical significance of January 20, 2009, the Montgomery County Public Schools calendar should honor the significance of each presidential inauguration by designating it a holiday, I am requesting that Board officers include this item for discussion and action at our all-day Board meeting on December 9, 2008. I intend to offer the following resolution to declare Inauguration Day a Montgomery County Public Schools holiday beginning with January 20, 2009:

WHEREAS, On January 20, 2009, Senator Barack Obama will be sworn in as the 44th President of the United States, and Senator Joseph Biden will be sworn in as Vice President of the United States; and -

WHEREAS, The Board of Education extends best wishes for success to our President-elect in his historic election as the first African-American president of our great nation; and

WHEREAS, The Montgomery County Public Schools should instill upon our students a keen awareness of the Presidential Inaugural as a key aspect of our democracy and encourage active participation of schools in emphasizing the importance and historical significance of the inauguration; and

WHEREAS, Several jurisdictions in the Washington metropolitan area have declared Inauguration Day a school holiday so that students and staff could fully participate in the Inauguration activities;

now therefore be it

Resolved, That January 20, 2009, be designated as a Montgomery County Public School system holiday for Inauguration Day, with three contingency days remaining (instead of four) in the 2008-2009 school calendar, and be it further

Resolved, That all future school calendars designate Inauguration Day a school system holiday, with appropriate adjustments made to account for emergencies and legally-mandated instructional days.
I don't know if there will be a unanimous vote on this, but I think most of the school board members will see that our nation is riding a wave right now, and it is in our common interest to stay on it, to teach our children about the sense of pride and patriotism that can attend the inauguration of a new President and a hundred-eighty-degree bounce out of the gutter of history. It
can
be another school day, they will learn some formulas and read some great literature, maybe even learn how to use a condom, or they can line the streets of Washington, alongside students from the other local school districts, wave a flag and cheer our new leader, or even watch it on TV with their families.
By the way, did you see how the world's leaders greeted our current President at the G20 conference?
Watch this
. Amazing. This is the kind of thing that will be changing after the January inaugural. I say let the kids out to go see it.