Relative Preferences
Mattew Yglesias
has an interesting post looking at popular support for various people and topics. He points out that support for marijuana legalization is considered a "fringe" view in national politics. But compared to what?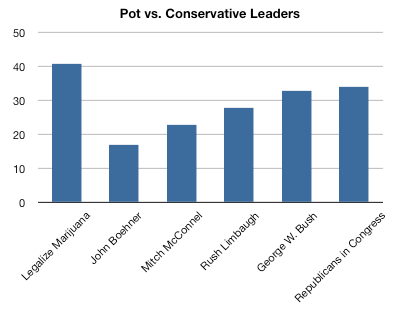 A lot more people support legalization of marijuana than support George W. Bush or Republican congressmen -- never mind Rush Limbaugh.
If you reframed this in terms of "regulation" of marijuana or something that doesn't imply completely uncontrolled distribution, I think you'd find majority support for it.
Last night right before I fell asleep I watched a TV news show showing a stream of red-faced white guys in suits expressing outrage over the number of people who use marijuana or make money in the pot industry. ""It's illegal!" they said, but they never gave any explanation for what is wrong with it. Are they really that worked up because it's
illegal
? What do they do when they see somebody jaywalking, I wonder? The main problem with marijuana is that it's against the law. It's illegal because it's illegal, there's nothing more to it.
As far as these conservative loudmouths, the fact is that American people don't like them. It's fine for people to believe that their "way of life" is better than other people's, but other people aren't likely to agree with them.
The comments at Yglesias' blog are interesting. Like, somebody notes that modern conservatism is fringe politics with no medicinal benefits -- pretty good!