Hello From France
I thought I'd share a few pictures I took yesterday and today in our visit to France. We are staying with friends for a few days in Annecy, near Mont Blanc and Geneva, and will be taking a train to Paris in a few days to get down to business.
Here is a view from our friends' back yard on a hilltop outside Annecy. Besides being a leading swarm intelligence researcher, he keeps bees and grows cherries, potatoes, tomatoes, and many kinds of flowers and vegetables: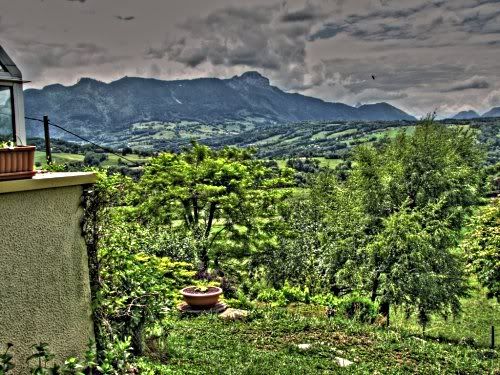 Yesterday we went to the town of Annecy to shop and hang out. They're having an animation film festival and the town is a little crowded with stylish young people, but mainly they are at the theaters. It is very pleasant to sit in the sun and have a coffee and watch the people walking by.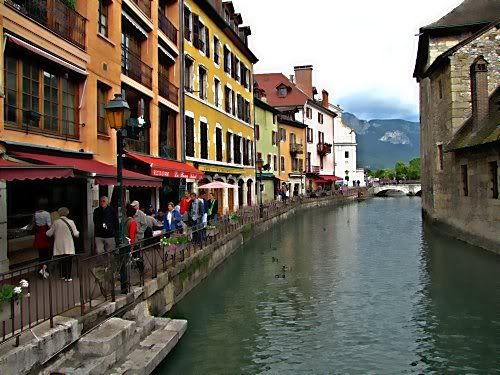 Today we drove up to the mountains. People were hang-gliding and the view was amazing. These are your stereotypical Swiss cows, though we are a few miles from Switzerland. Each one wears a bell. Well, you can hear this little herd of cattle a mile away! They are just grazing, but every time they move their bells ring, and it raises a real clatter, like a field of wind chimes.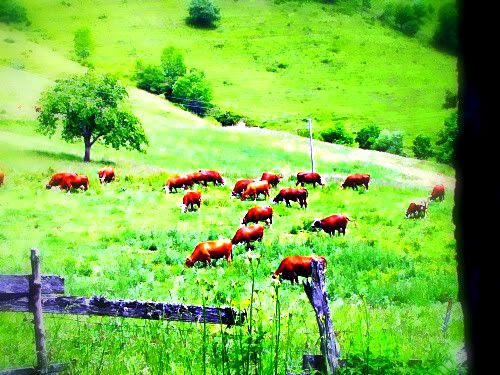 Finally, the view. This is across the street from the cows, looking down at Lac d'Annecy. We drove all the way around the lake today, and had lunch at the spot where this picture was taken. There is a castle on the little peninsula you see sticking out into the lake. The water is incredibly blue, people are out in boats and walking along the beach.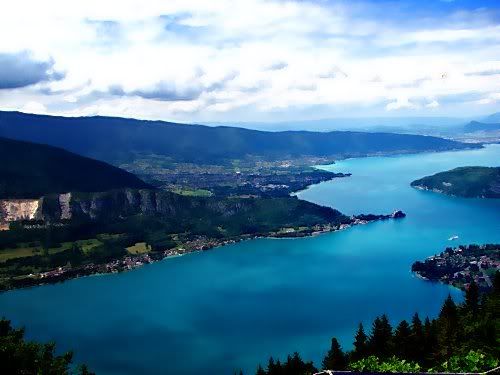 So far we are having a beautiful time, eating delicious and healthy food, seeing beautiful landscapes and beautiful people. In a few days I will have to give my talks and I need to prepare for them, so it won't all be fun, but so far I am totally enjoying my vacation.