Those Zebra Shoes
Huffington Post
has this cool story this week. Seems a little boy who is known as "Sam" picked out a pair of pink shoes to wear to his first day of preschool. His mother posted a picture of him on Facebook. His sister reposted it on a Facebook group called "Have a Gay Day" and said:
"Yesterday my mom posted a picture on Facebook of my 5-year-old brother Sam wearing a pair of shoes he picked out for his first day of preschool. She explained to him in the store that they were really made for girls. Sam then told her that he didn't care and that 'ninjas can wear pink shoes too.'

However, my mom received about 20 comments on the photo from various family members saying how 'wrong' it is and how 'things like this will affect him socially' and, put most eloquently by my great aunt, 'that sh*t will turn him gay.'" Photograph Of Little Boy Wearing Pink Shoes To Preschool Sparks Heated Blogosphere Debate
It's interesting that there was no problem at his preschool. The other kids didn't care.
Here's the picture.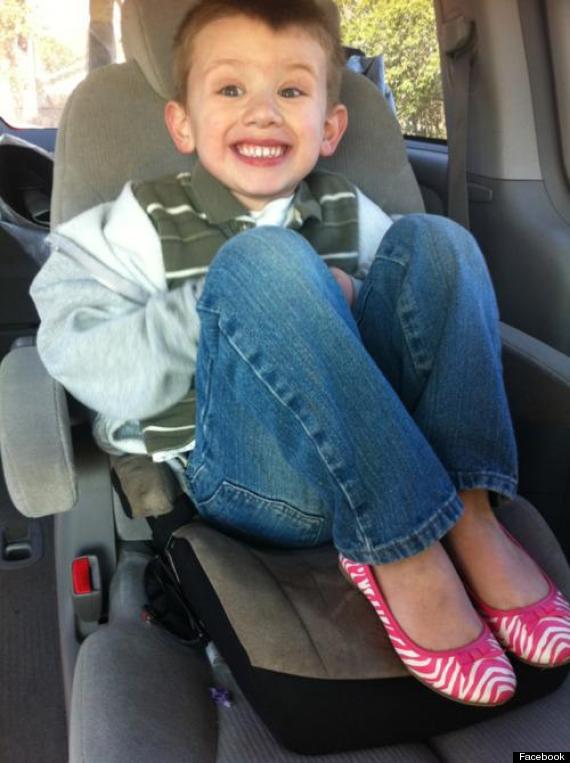 That is one happy kid!
Huffpo
goes on:
The user goes on to explain that Sam liked the shoes because they were "made out of zebras," as zebras are his favorite animal: "What does it say about society when a group of adults could stand to take a lesson in humanity from a class of preschoolers?"

The photograph has since drawn over 120,000 likes and has been shared over 19,000 times.
So in the long run it turns out that the kid didn't even care that his shoes were
pink
. He didn't care that they were made for girls. He liked them because they had stripes, like a zebra, his favorite animal.
Pause here and think about that.
The
Huffington Post
goes on to quote
a blog
that argues that the mom should not have sent her boy to school in pink shoes -- not because it will turn him gay but because bullies will pick on him.
Everybody makes concessions to the tyranny of the mob, that's just how it is. You dress the way you have to, you watch what you say -- if everybody makes some concessions then life can be orderly, it is not inherently evil to sacrifice some of your personal self-expression for the greater good. We have freedom to do whatever we want but do not have freedom from the consequences of our behavior, and the result of that is that we obey social norms, in part, as a way to arrange for more positive consequences for ourselves.
The wise individual negotiates with the public that surrounds him or her and finds ways to experience life fully, to participate in a satisfying way, to communicate honestly and completely. It can be done. Everybody wants to be happy, and generally people will support one another's quests for happiness.
A coward gives the crowd control over his or her own personal satisfaction, deprives the self out of fear of consequences administered by the other. This kid wore his zebra shoes to school and his picture has been posted on the Internet 19,000 times, as of the writing of the
Huffpo
piece. Everybody loves that picture, they love that happy kid -- they love the shoes.
What kind of person would actually advise that this is wrong, because some other kids might not approve?