Guimaraes: Some Pictures
I haven't been blogging much this week, because I've been out of town and have been busy. I thought you might like to see some of the pictures I've been taking here in Portugal. Of course they're small, for the web, but you can get a flavor of where I am.
Here's the view from my hotel room window, looking out over Guimaraes on a sunny day: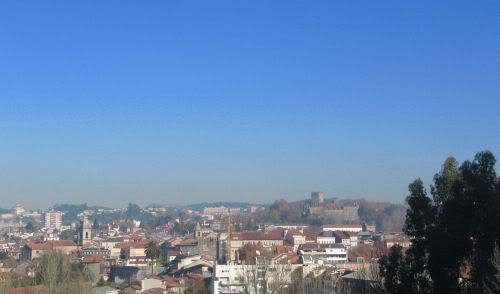 There are plazas in different parts of the town, some little streets will all converge at some random point and there are shops and restaurants all around it. This is a small but famous plaza with an ancient church and a monument celebrating a fourteenth-century battle. I took this picture at night, it had been raining and was very quiet out.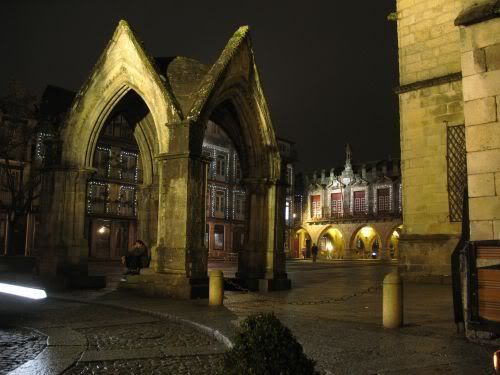 This is on the other side of the same plaza (or as the Portuguese say, "praza"), in the morning. This guy was just enjoying the morning air and sunshine. Looks like a tough life.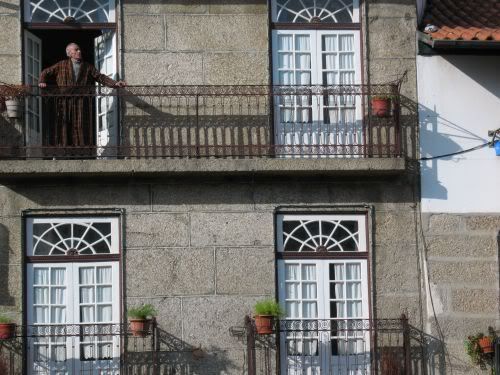 It is fun to walk the little streets. Some doorways have people in them selling stuff, or sewing, or making things. I saw this guy later, sitting on a stoop selling his vegetables.
Christmas is a Big Thing here. Look how they decorated the big church in the center of town. Magnificent.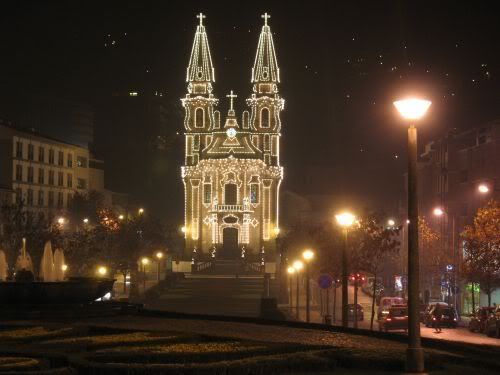 This church dates back to 471 A.D. Of course it's been modified many times since then, but this is really considered the heart and birthplace of the country of Portugal, Our Lady of Oliveira Church. This is on the same plaza as the previous pictures -- one interesting thing about this plaza is that it seems there are always beautiful women walking there. You may disagree with me, but I think a pretty woman makes a photograph better.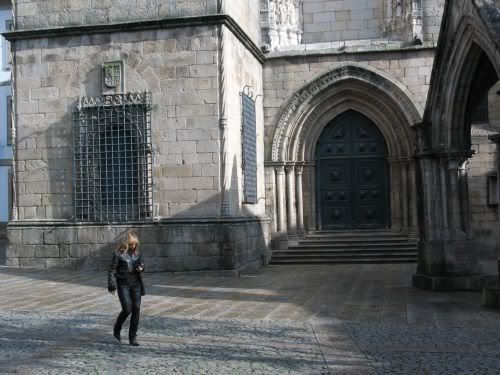 The castle at Guimaraes is famous, you see the image on everything. My friend Rui and I went up there at night so I could take some pictures. There is no fancy lighting on the castle, as you would expect. It does dominate the landscape during the daytime though, being built up on a hillside.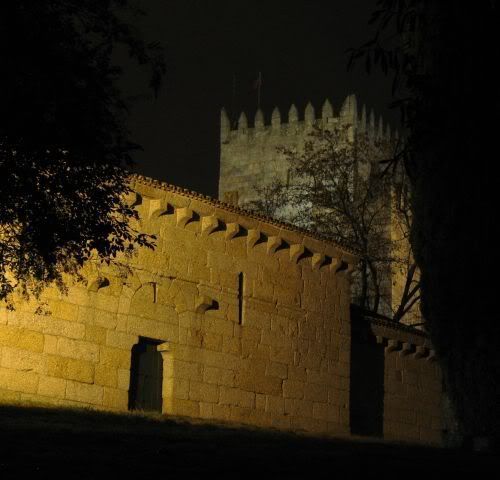 It has been raining and foggy here quite a lot. This is a typical street. I have gone out walking several times, following the winding streets. Some are too narrow for cars, like a canyon between ancient stone walls connecting one part of the town to another. Streets just wind around, crossing one another at weird angles. For the record, this lady
did not
give me The Look. In fact, everybody has been very nice to me, hiking around with my ponytail and my cowboy boots, not looking like a local. The young people try their English on me, everyone is very friendly and nice.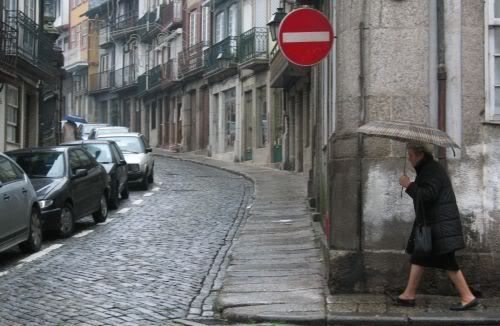 The streets here are lit up with various lights, for the Christmas season, called Natal -- they don't call it the "winter holidays" here. Here is a little street with shops and restaurants, at night. There are magical scenes like this everywhere.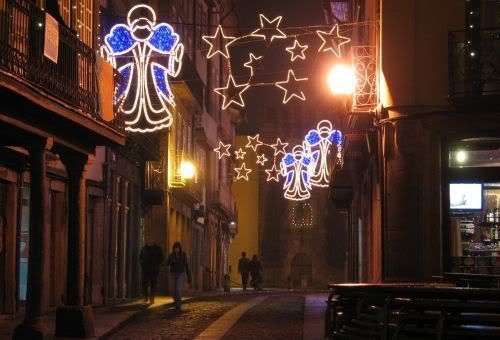 I'll be back soon. I am enjoying this break but miss being home, especially knowing you have snow.