The Hypothetical Pedophile and Other Adventures in Petition-Monitoring
Another interesting day, more or less. Tiring. The Citizens for a Responsible Whatever have to have their petitions in to the Board of Elections by COB Tuesday. They need 25,000 signatures. Their newsletter earlier today said they had 22,362. Those are raw, unvalidated signatures, and usually twenty or thirty percent are invalid, so they need quite a few more. They might make it, I don't know. I started out my day checking on Leisure World. There was nobody there, so I drove out to the Giant on Watkins Mill, in Gaithersburg. Two people had the petitions, one at each end of the walkway. I talked with both of them, and they both said the same thing. They were concerned about pedophiles going into the ladies room.
In reality, they are trying to repeal a law that prevents discrimination on the basis of gender identity. There isn't anything about pedophiles in it. Pedophiles are bad, everybody's against pedophiles, and this is a great thing to say to get people to sign your petition, no matter what it's about. Both women I talked to felt it was a very real possibility that pedophiles would be able to lurk in ladies locker-rooms when this law goes into effect, and that they not only could but would do that. It creates a loophole, they both said. All a pedophile has to do is say they're transgender, and they can go into the ladies room and there's nothing anybody can do about it.
I love learning about how people think, it's so fascinating talking to these nice people -- well, one was nicer than the other -- and seeing their ideas. Let me look at this from a different angle. Let's say the law was not passed, it didn't exist, it's the same as it was last month. A guy is a pedophile, he goes into the ladies locker-room, what do you think happens?
Say he goes in, uses the stall, pees, leaves. Guess what -- there's no law against that. Nobody checks your criminal history when you go to use a bathroom, and there's no law that says men can't use the women's restroom.

Say he goes in, there's a kid there, and he looks at the kid lewdly, maybe he is becoming aroused. Now what happens? He can be arrested for peeping.

Say he goes in, there's a kid there, and he grabs the kid and tries to fondle him or her. What happens? Busted on sex charges.
Now we'll compare that with the way things will be under the gender identity nondiscrimination law, we'll imagine it is now in effect. A guy is a pedophile, he goes into the ladies locker-room.
Say he goes in, uses the stall, pees, leaves. Same thing -- there's no law against that. He can say he's transgender if he wants but there's no need to.

Say he goes in, there's a kid there, and he looks at the kid lewdly, maybe he is becoming aroused. Now what happens? He can be arrested for peeping. What if he claims to be transgender? No problem, he goes to jail anyway, peeping is a crime.

Say he goes in, there's a kid there, and he grabs the kid and tries to fondle him or her. What happens? Busted on sex charges. Claims to be transgender, no difference, busted, you can't molest children.
There is simply no logic that concludes with anybody getting away with anything, just by claiming to be transgender. Men can go in the ladies rooms now, there's never been a law against it in our county. You don't even
have to
claim you're transgender. As it is now, even pedophiles can go in the ladies room, there is simply no law against it. They don't need a "loophole," it's just legal.
Both the women also made comments about how bad the world is, how many bad people there are out there. It seemed like a funny way of looking at things, but that's how they feel, the world is frightening and dangerous, and if there's any bad thing that can be done, somebody will do it. You see where that goes: you have to make explicit laws against everything dangerous, harmful, or frightening. You can't leave a loophole where somebody could do something, everything we do needs to be regulated by law.
Anyway, at Watkins Mill while we were there the Giant manager came out and told them they had to leave. I enjoyed talking to the one lady, she was extremely conservative but intelligent. I respect somebody trying to protect their kids from danger and from exposure to bad influences. She did believe that it had to be entirely her way, though, there was no room for compromise, she was clear about that. That means that she has to withdraw from society in order to have the lifestyle she wishes. And she's done that, she took her kids out of school because of what they were being taught in fourth grade. Okay, fine for her, she did the right thing. The rest of us want our kids to learn things; if you don't, you should pull them out of school.
After that, we drove all the way across the county to Takoma Park, to the Arliss Giant, where three men were getting signatures. Here they are: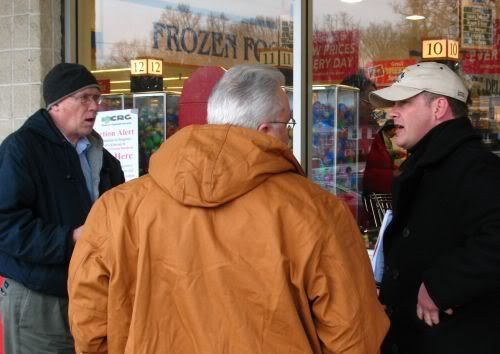 This guy was the worst: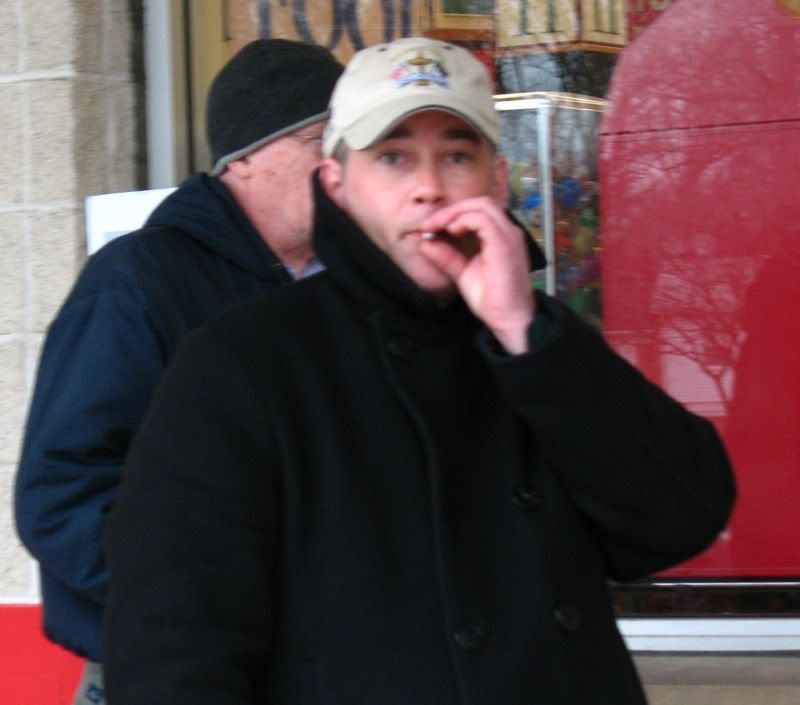 This was a weird scene.
First of all, this is downcounty, this is the liberal part of MoCo. But they had three of the rudest, most obnoxious guys in the world there, and the store was backing them. Our loyal TTF member Andrea was out there with a sign, and management made her stand out in the parking lot. They wouldn't let her stand near the petition handlers. One of the CRW petition people told her that it would have been good if she had been aborted. I suppose that means he's pro-choice?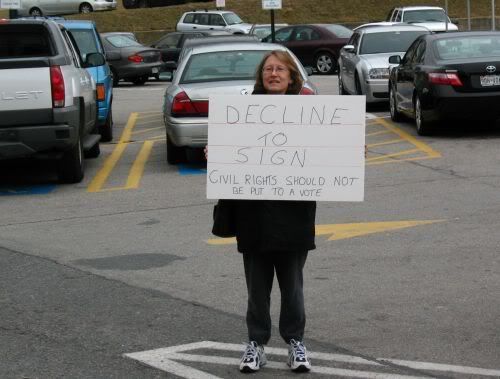 Actually, I'm going to take some of Andrea's description from the comments section of the previous post -- she says it better than I can:
I did not call people names during my time at the Giant(well, not to their faces)- but I was called a facist by short baseball cap guy and told I should have been aborted by fat white haired plaid shirt guy(two of the three Showwer nuts). Short guy seeing that a 5'1woman of more than 50 years was a threat- because I was armed with the TRUTH- tried to intimidate me. He told me I had to leave, he yelled at me to leave, told me the police told him I had to leave- I told him to bring the police to tell me to leave. He tried the "we have a permit from Montgomery County and you don't. " I didn't leave. I have faced angry war supporters, anti-feminists, US Secret Service- outside the Burmese embassy, Riot police at the Supreme court- when Burma wasn't something the whole US congress was against and nearly smashed by Philly police horses- at a Flyers Stanley Cup parade. Not to mention my travels in Asia, the Middle East and South America. So I am not gonna be scared by short baseball cap guy, old fat plaid shirt guy and not- all-there sweater hat guy.

However, short baseball cap guy did intimidate the manager of the Arliss Giant- which is one of the two dirtiest worst stocked Giants in MC- Blair Giant- you go second. I guess his mgmt skills are similar in all situations. I had spoken to the manager and I say he told me I could pass stuff out- he says he didn't and told me I had to get off the property. I think Jim will blog the rest of the story-but suffice it to say- I did stay in the parking lot with my homemade sign and our flyers. Short baseball cap guy-if you read this- I've been working on the other side of hatred and facism for 40 years- it will take more than a bigoted blowhard like you to get me gone.
Yes, Andrea has carried a sign once or twice. She is not one you push around.
I went in to find a manager and figure out why our person was kicked off the property while the CRW people were not. I talked with Aaron Williams, who said that they had gotten permission ahead of time. When we asked him who had told him that, he started by pointing out the window to the petition people, but then said he had seen something that said they had permission. He wouldn't show us anything or give us a name of who had given permission. It was very sketchy. We explained what the situation was, and complained that Giant was taking sides in this.
We told him that the petition people were out there insulting people, and he said he'd heard that, too. I told him he ought to go out there and see what was going on, and he said he would, but he never did. The Arliss Giant provided protection for these people, and made sure the opposing opinion was not heard.
After a while the police came. They talked to the petition guys, trying to find out how long this was going to be going on. Answer, about another hour. Then they came over to us and said we had to stand in the parking lot.
Theresa Rickman came out for the excitement: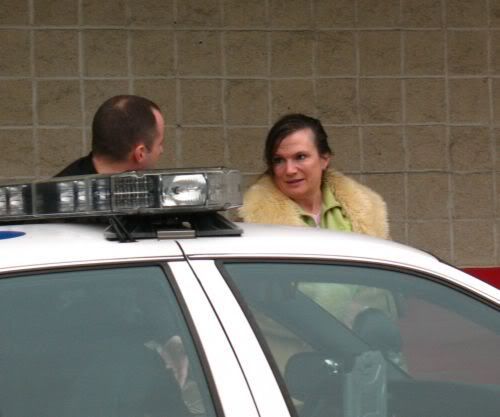 These guys at Arliss Giant were saying anything to get signatures. I heard them telling somebody that the law would require men and women to use the same bathroom. A few people signed, not many.
There wasn't much to do there, so we went all the way back to the other side of the county, to Fallsgrove. Where's that, you say? It's in Rockville, on the far side of 270, it's one of those planned communities like Rio or Kentlands. I'd never been there before. The CRW had a table in front of the Safeway. We talked to the lady for a while. To her, it's all about bathrooms. She said the referendum wasn't to repeal the law, but to fix it.
At all these places I asked the people why they didn't get involved while the law was being developed. There were plenty of hearings, public comments, lots of chances to call your council member and tell them what you wanted. But as far as I know, the CRW didn't get involved at all until right at the end, when the Council was about to vote on it. Then they just got mad about it all. That's the way they are. They don't respect our processes or the rule of law. How many have told me that a referendum is "democracy?" No, having the citizens vote on bills that they have no knowledge about is not the way a democracy works. In our country, we elect people, and they have people who keep them informed, they debate the issues intelligently, they learn about the different aspects, and then they decide.
This really is the part that gets me. We have a system of government where we elect representatives and they do the work. You don't vote on every little thing. As somebody said today, if we did that, Virginia would still have segregated drinking fountains. The shower-nuts like to talk as if this is "democracy," but it's not the form of democracy we practice in the US. Oh, there is a provision for calling a referendum, but the way this should work is that interested parties participate in crafting the wording of the bill in the first place. They didn't bother to do that, just wanted to throw a tantrum when it didn't come out the way they wanted. Just like the way they wanted to recall the school board when they didn't like the new sex-ed curriculum.
Later, I was home and just thinking about dinner, when the phone rang. Maryanne was out at Fallsgrove, and there were five people with petitions, too many for her. Could I go out there and help? When I got there it was dark, there were three people at the table and Maryanne seemed to have that under control. A couple of us showed up. I noticed a lady with a clip pad out in the middle of the parking lot, picking off people as they walked up from their cars. We wandered over there, and she asked if we were registered voters. Yes. Then she started telling us about the new law and how it would allow sexual predators to go into the ladies room.
I asked her how that would work. The answer was that they just had to say they were transgender and then you couldn't make them leave. I said, let's say a guy goes into the ladies room and he's leering at the women: he will be arrested under the peeping tom law. You can't do that. A guy can't look at other guys in the men's room, women can't look at other women, it doesn't matter if you're transgender or not. She said the new law would make it more complicated, but couldn't explain beyond that one word.
She said her sister in law or somebody had been in Macy's, and a transgender person was adjusting their nylons and you could see everything. I pointed out that exposing your genitals is against the law, whether you're transgender or not. Then, as I asked more about it, it wasn't clear
what
you could see. Was the person wearing panties? She didn't know. So, whatever, I don't think anything really happened except that they were offended because a transsexual person was wearing nylons. The fact is, you can't expose yourself to people, it's against the law, and that won't change.
I asked her, if a person has changed their sex, so that a man has become a woman physically, do you think she should be able to use the ladies room? She seemed to think that made sense. Then we talked about stalls and doors, and how do you know if a person has the genitalia of one sex or the other? About that point, she said she needed to get moving, she had work to do. I hung around for a little longer, Maryanne had made another friend and they were talking, then we all went home for dinner.