Do Not Use Whilst Driving
The school district came under attack for a new curriculum that had two features that annoyed the local nuts. It talked about sexual orientation and it talked about condoms. Oh, they had fun with that cucumber! Oh, they were outraged by it all!
As somebody said recently, "It's like these guys take pride in being ignorant."
The
CRC blog
quoted a web site columnist who said, "At one time, the new curriculum was going to feature information on flavored condoms." It was a favorite talking point, but only off-camera, because everybody knew there was never anything about flavored condoms. It sounded so outrageous they just couldn't help themselves.
Thanks to the great guys at
Alternate Brain
for this relevant item. Maybe this warning message ought to be added to the MCPS condom video.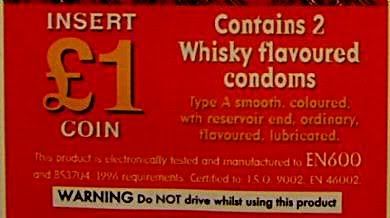 Aw, come on, that's funny!