Update: MPW Exaggerates Own Importance
I hate to pick on them, because they do provide an important service to our community by reporting on the day-to-day details of Maryland political dynamics, but Maryland Politics Watch overdid it this morning, bragging about how important their post echoing the shower-nuts' attack on Duchy Trachtenberg was:
One thing about the Internet is that it moves FAST. Our report on Maryland Citizens for a Responsible Government's (MCRG) allegations about Council Member Duchy Trachtenberg's mishandling of money at Maryland NOW is only a few hours old, but it is already fifth on Trachtenberg's first Google search page.

Now is the time that likely voters are paying attention and making up their minds on how they will vote. One way they do that is to enter a candidate's name in Google. When they do, they often end up on MPW, and that is one reason why our site traffic is currently at all-time highs.

If you are a candidate and voters find this [links to their own post] when they Google your name, well... you don't want to be that candidate. Google Picks Up MCRG/Duchy NOW Story
They showed a screenshot:
showing their post about the CRG's illegitimate attack on Duchy displayed fifth on Google's first page of a search for Duchy Trachtenberg's name, not in quotes.
And it might be fifth on Adam Pagnucco's computer, because he looks at his own web site a lot.
Not for the rest of us.
Google is smart. They analyze your online behavior and tailor your searches to display things they think you're going to want, for instance, sites you have visited in the past.
My wife has little interest in politics and has never visited Maryland Politics Watch or searched for Duchy's name -- hers is a virginal computer. So I searched for Duchy Trachtenberg on her computer. Here is a picture of the resulting screen.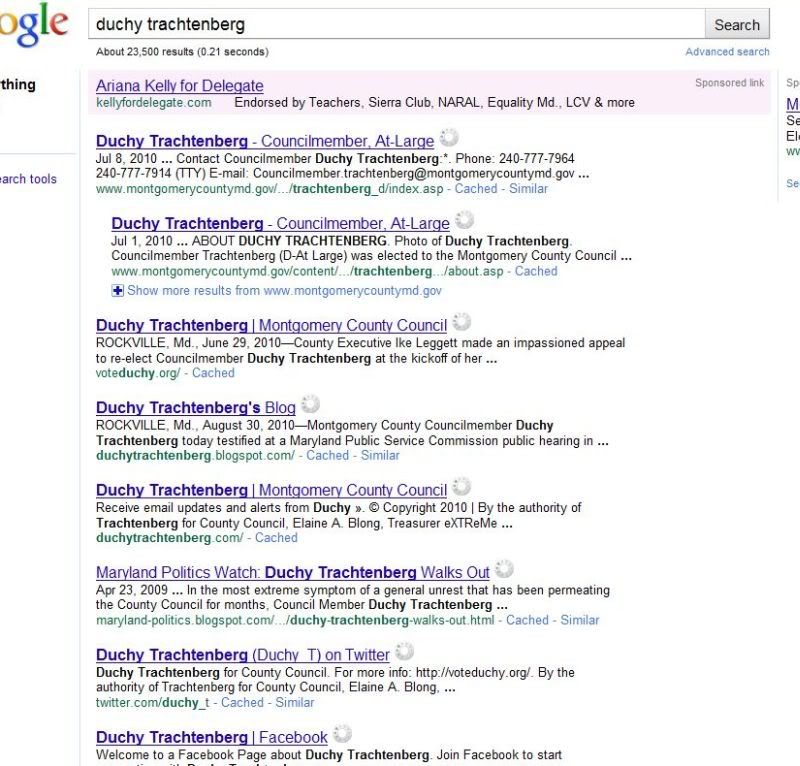 I clicked through twenty entire Google screens and never did find a link to yesterday's Maryland Politics Watch slam.
Even when I narrowed the search to [ Duchy Trachtenberg CRG NOW ], there was no sign of yesterday's post anywhere on the first few screens.
The sixth item listed on a Google search from my wife's computer
is
an MPW post reporting something negative about Duchy from one and a half years ago, so I suppose they should get points for consistency.
Come on, Adam, what do you have against Duchy? How about giving the people of Maryland a fair reporting of the political climate?
And please. There is no honor in siding with the Citizens for Responsible Government against someone who has fought for civil rights for county residents, and then boasting that you have done grievous political damage to your victim because you are so powerful and so many people read your post. Even if they had.