God-Hates-Fags Group to Protest AU
The
Westboro Baptist Church
will be protesting at American University this Friday, January 14th. From the AU
Eagle Online
student paper:
The Westboro Baptist Church of Topeka, Kan., released a statement Jan. 5 saying they will protest the "fag-infested, pervert-run" school between 4 and 4:45 p.m.

The group also plans to picket the Islamic Center and diplomat Richard Holbrooke's memorial at the Kennedy Center earlier in the day.

"American University, like all the other universities in this country now, are teaching rebellion against God 101, 201 … you've got advanced degrees," said Shirley Phelps-Roper, a member and attorney of WBC.

In a telephone interview Friday night, she said universities are not educating students properly.

"You children have been taught that God is a liar, that if you're not fornicating your day away, you're just a freak," she said. "These people have taught you that it's OK to be gay." Westboro Baptist Church to protest at AU Jan. 14
Yeah, whatever. I see there is a
counterprotest Facebook page
with, so far, 1,279 people saying they will attend. Could be a circus.
Here's a picture I found online from a recent time that the Phelpses came to our region: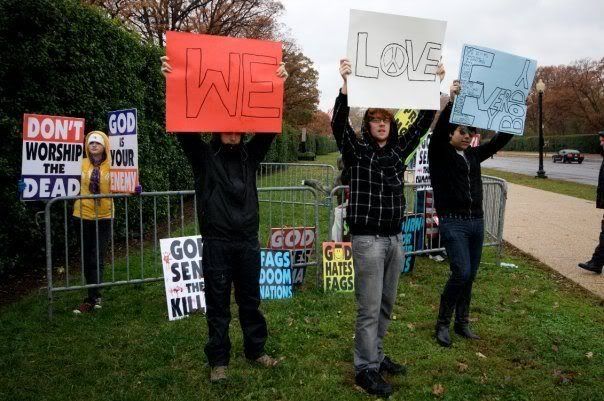 The one in the middle is my kid, btw. Apple, tree, etc.