Republicans Dislike the Debt Deal More Than Democrats
This seems kind of surprising to me. Two polls were conducted this week (
USA Today/Gallup
and
CNN/ORC
asking people how they felt about the debt ceiling deal. The results of the two surveys were very similar. Here's
Huffington Post's
summary table.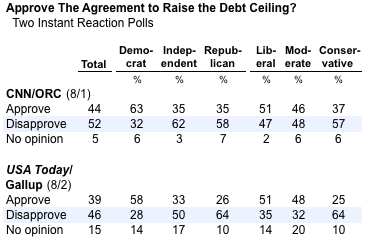 46 percent of Americans oppose the agreement, while 39 percent favor it. Okay, that part is not much of a surprise.
But I thought it was surprising that Republicans and conservatives are strongly opposed to the deal, and Democrats and liberals favor it.
Does this mean that conservatives really did want to default on the country's loans, even more than liberals wanted to see the rich pay more taxes? Apparently so.
Skipping through this
HuffPo
piece:
Second, and probably more important, even only 17 percent of Americans believe the agreement will help make the economy better, while 41 percent believe it will make the economy worse and 33 percent say it will make no difference.

… the biggest differences appear across party lines. While dismay has been evident among those in President Barack Obama's liberal base, the deal may provoke even more of an intra-party backlash against Republican lawmakers who supported it. Gallup Poll: Republican Base More Dissatisfied With Debt Ceiling Deal Than Democratic Base
I had been thinking the Republicans got what they wanted and the Democrats compromised too much, but it appears the President and Congressional Democrats did a better job of pleasing their base.