Political Talk: Dirty Tricks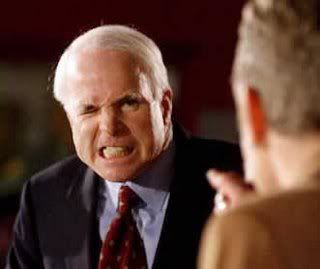 Okay, we're coming down to the wire. We can argue over the polls all we want, tomorrow we'll see the results of the only one that matters.
What would you do if you went to vote and they wouldn't let you? What if you got something in the mail telling you where to vote, and you went there, and it was the wrong place? Or the wrong day?
I'm afraid most of us would just shrug and go home, maybe complain to somebody, there's probably a toll-free number somewhere where they'll take your comments and get back with you sometime. I know some people are predicting there may be violence tomorrow, but I don't think most people will care enough to take any action if their voting rights are taken away from them. Maybe in a few months the ACLU can file a lawsuit or something, after it doesn't matter any more.
Here's
MSNBC
this morning:
In the hours before Election Day, as inevitable as winter, comes an onslaught of dirty tricks — confusing e-mails, disturbing phone calls and insinuating fliers left on doorsteps during the night.

The intent, almost always, is to keep folks from voting or to confuse them, usually through intimidation or misinformation. But in this presidential race, in which a black man leads most polls, some of the deceit has a decidedly racist bent.

Complaints have surfaced in predominantly African-American neighborhoods of Philadelphia where fliers have circulated, warning voters they could be arrested at the polls if they had unpaid parking tickets or if they had criminal convictions.

Over the weekend in Virginia, bogus fliers with an authentic-looking commonwealth seal said fears of high voter turnout had prompted election officials to hold two elections — one on Tuesday for Republicans and another on Wednesday for Democrats. Onslaught of dirty tricks as election day nears
A little further down in the story ...
The Obama campaign and civil rights advocacy groups have signed up millions of new voters for this presidential race. In Ohio alone, some 600,000 have submitted new voter registration cards.

Across the country, many of these first-time voters are young and strong Obama supporters. Many are also black and Hispanic.

Activist groups say it is this fresh crop of ballot-minded citizens that makes some Republicans very nervous. And they say they expect the dirty tricks to get dirtier in final hours before Tuesday.

"Oh, there's plenty of time for things to get ugly," said Zachary Stalberg, president of The Committee of Seventy, a Philadelphia-based government watchdog group that is nonpartisan.

Other reports of intimidation efforts in the hotly contested state of Pennsylvania include leaflets taped to picnic benches at Drexel University, warning students that police would be at the polls on Tuesday to arrest would-be voters with prior criminal offenses.
Twalk amongst yahselves. This is your last chance before election day. Tomorrow you'll put your money where your mouth is, and by the next morning we'll know what direction this country is going to take.