Political Talk: Today Is It
Our neighborhood votes at Meadow Hall Elementary School, in Rockville. Normally you park in front of the building, walk in, and vote. Sometimes, since there's no school, I park in the principal's parking place, just because I can and because it's close to the door. The election judges are your neighbors, so you yack a little bit with them, you go to the machine, make your choices, and you're out of there.
This morning there was no place to park, we literally parked in a no-parking spot on the street, hoping the cops would be cool and not give people tickets for voting. All through the neighborhood you saw streams of people walking toward the school, alone and in groups, deliberate and solemn. As we approached the building we could see there was a line, but it wasn't until you went inside that you saw the magnitude of this. The line snaked from the auditorium, where the voting machines are, down the hall past the front doors of the school, around the corner, around another corner, and back to the end of the building.
Kids from the high school went up and down the line offering to run for breakfast for you, to raise funds for this-and-that team or club. The chief election judge came down the line and said there were chairs for people if they were disabled or felt like they were going to faint.
Christine Grewell emailed me a picture she took outside Woodlin Elementary School this morning. The line went down the block, past the playground and into the neighborhood. The whole country is doing this today.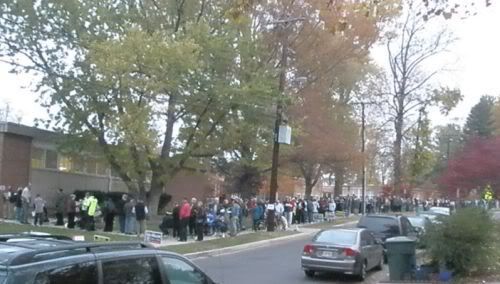 People talked quietly among themselves. We saw some neighbors we don't see very often, and caught up a little. I didn't hear anybody talking politics, nobody was saying who they planned to vote for. It doesn't matter now, everybody's mind is made up. We're a little bit up-county, I imagine we have some Republicans, compared to other parts of Montgomery County, or Maryland, for that matter. Whatever, they can vote for their guys, we'll vote for our guys, there's nothing to argue about at this point. Somebody's going to win, somebody will lose, there will likely be some grumbling. I hope there's no cheating, I hope this isn't one of those elections that gets settled by some judges, I hope the people select a leader with a clear majority and tomorrow we'll know who the winner is. Both parties are saying they can win. Yesterday, Obama spoke to a crowd estimated at
80,000
to
100,000
in Manassas, Virginia, while McCain addressed a crowd of
5,000
in Indianapolis. Both Indiana and Virginia are traditionally Republican states.
I talked to one mom whose adult son is taking the Chinatown bus back from New York City to vote here, where he's registered. Another told me her daughter who works in Paris is flying back from France to cast her vote. Everybody wants to do their little part to get our country back on its feet.
The ballot is short, it only took a few minutes to check the boxes and drop your card in the box, and so the line moved along at a pretty good pace. We got there at 7:10 and left at 8:20, so a little more than an hour in the line. I heard nobody complaining, did see one guy say he's going to come back later -- but he's somebody I know, and I know he
will
come back. I know that there are other neighborhoods in our town and county with more or fewer voting machines, and I have the feeling that the neighborhoods with fewer machines will have very high voter turnout today, so they will have some real lines in those places. You just hope nobody gives up and leaves because there's a couple-hour wait.
It's like this everywhere. Today America will select a new President, it's our opportunity to pull out of the eight-year nightmare that has divided us against each other and alienated us from the rest of the world. Personally I favor a cleaner break with the past, but you'll decide according to your beliefs and your conscience, I'm not going to try to talk you into anything.
I imagine this will be the last "political talk" post, well, maybe we'll want to re-hash it for a couple of days afterwards. Let's hear what you saw at your polling place, what you're hearing on the news, in the office, in the neighborhood. Tell us why you think your candidate is going to win.