CRC Protests School Board
The anti-gay Citizens for a Responsible Curriculum held their protest this morning, as scheduled, outside the Montgomery County Public Schools Carver Center, where the school board will meet today to decide whether to implement the new sex-ed classes.
Their mass emailing said:
Please JOIN OUR family friendly PROTEST on the morning of June 12th at 9:30 a.m.! We will meet outside the Carver Educational Building on Rockville Pike in Rockville, Maryland at http://www.mcps.k12.md.us/boe/meetings/directions.shtm If you have young children, put them in strollers and come hold a sign that says "Health Before Politics" or "No Unisex Bathrooms." The signs are already made. We want the media to have plenty of footage for the TV newscast and plenty of pictures for the newspaper!
(Yes, I know, I already told you that, some people didn't see it the first time...)
Christine and I were there. She came to get a seat for public comments, I stopped by on my way between places, shopping for my wife's birthday.
We were there about 9:15, looking around. Is that one of them? Is that?
There were no TV antennas, no reporters.
About 9:25, the CRC's President John Garza and another man got out of a car and walked into the building. We went up there. They were standing in the air conditioning.
Two ladies with strollers came up the hall where Christine and I were standing. "Are you looking for something?" we asked them, thinking they might be part of the protest, since they had the strollers and all.
"Yes. Do you know where the ... get-together is supposed to be, at nine thirty?"
"The CRC, you mean?"
They looked at each other. "I guess."
We pointed to John Garza and the other guy, who had just walked outside. "That's John Garza," we said, "Follow him."
"Oh, OK, we didn't know what he looked like."
We stayed in the cool and gave them time to group. Around 9:30, we went outside.
We stopped by where the group was standing, Garza and the other guy and the two women, and we all small-talked for a minute. Garza would have to leave to play golf with a client. Some cracks about it being perfect golf weather. He ended up saying, "Somebody's got to do it."
A young guy walked up to us and said, "Excuse me, do you know where the protest is?"
"This is it," we said. Then we figured we'd better move on, so we didn't accidentally inflate their numbers.
Christine and I stood in the parking lot and talked for five or ten minutes. I took a picture of the protest: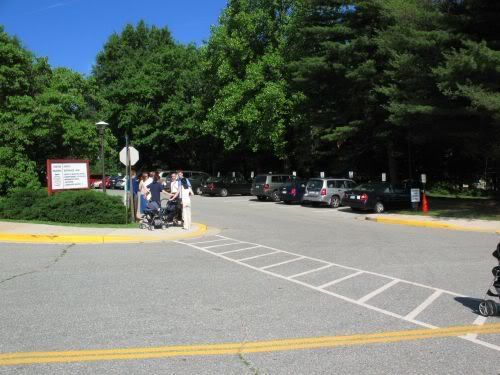 There they are.
Since no reporters or TV crews showed up, I guess we'll give them the publicity they were looking for. They get to be featured right at the top of the Teach the Facts blog, at least until this afternoon, after the school board votes.
In all fairness, after a while somebody else did show up.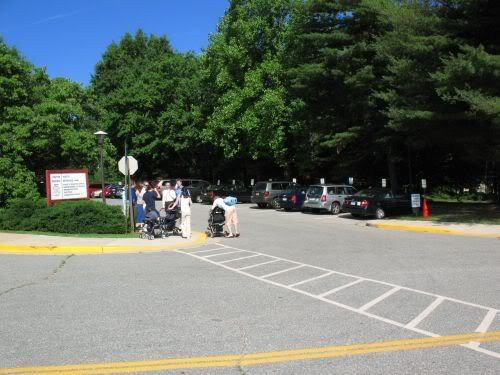 No Michelle.
No Retta.
Neither Steina.
No Ben.
No Theresa.
No Steve.
No Ruth.
No Peter.
I didn't even see the yellow signs, which would have made my photographs even better. (Somebody did have a piece of orange cardboard that may have had some writing on it.)
Oh, we ran into Reverend Grace inside the building. She wanted to get where it's cool. We talked with her for a while. I like her, I think she's probably good people. Well, I don't really know her, but she goes out of her way to be nice. We pointed to where the CRC was having a protest. She told us she had ridden two buses to get here, and she was hot. Maybe she went out later, it did not seem that she planned to.
It's possible the crowd swelled even bigger than this, I don't know. It was hot, I had to go.